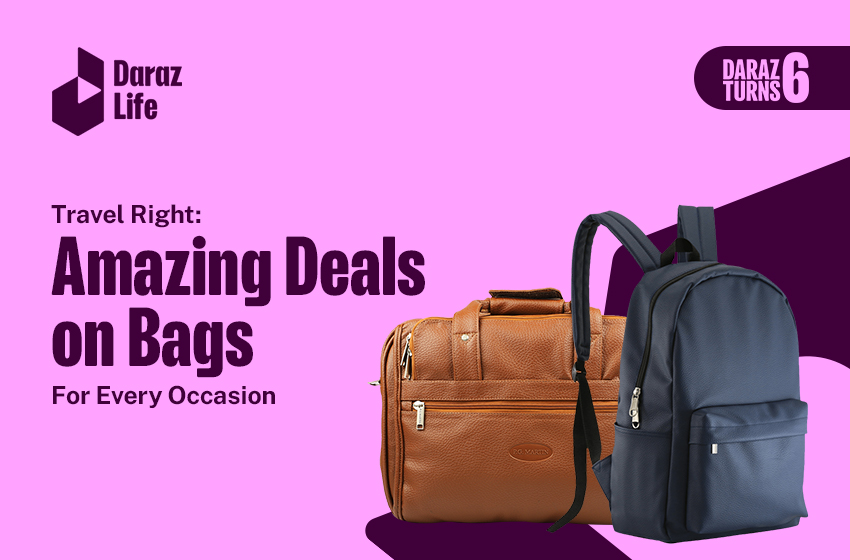 Bags in Sri Lanka For Every Occasion
If you are looking for discounts on bags in Sri Lanka, you're at the right place. Daraz Birthday sale is offering the best deals and discounts for bags this September.
Are you shopping for bags in Sri Lanka? Read on to find out how you can get the best deals on travel bags, casual bags and other types of bags during the Daraz Birthday Sale.
Get The Best Discounts For Bags in Sri Lanka During Daraz Birthday Sale
Party in style as Daraz turns 6. Join in on the celebrations and get up to a massive 75% OFF. Grab jaw-dropping Mega Deals. That's not all. You can save more with Bank card discounts and instalment plans. Shop with Daraz Points and get additional discounts sitewide. Get on your Daraz app starting from the 27th of September, and join the party.
Shop from our flagship brand stores on the Daraz platform Avonkin and PG Martin and get up to 20% off on bags in Sri Lanka. Also, get free shipping when you order from these stores during the Daraz Birthday sale. Collect valuable vouchers and save more.
Make Use of Discount Vouchers
Don't forget to visit the discount voucher section as you browse your Daraz app for your favourite items. Collect vouchers to get additional discounts, so you can shop till you drop. Download the Daraz app now and have fun shopping.
Most of your favourite brands are already on board to celebrate the Birthday with Daraz. Daraz Mall has Partnered with several brands from multiple categories to bring you the best prices in town. 100% authentic products, with Faster Delivery and a 14-day easy return policy. Look out for the Daraz Mall label at the bottom of the product to distinguish them from the rest.
Backpacks
Are you someone who is always on the go? Then, you need a backpack in your life. There are many different sorts of backpacks for different purposes, including duffel backpacks, tote backpacks, cycling backpacks, hiking backpacks, and many more. So, if you need a bag to carry your belongings out and about, check your Daraz App for all the fantastic deals on backpacks.
Hand bags
A handbag can be used on a daily basis to carry money, cards, cellphones, and other items. Long straps or handles are quite common on all handbags. These allow it to be worn over the shoulder, slung over your arm, or held in your hand. At other times, handbags are largely used to carry around personal goods. Most ladies wear hand bags as a fashion statement. Therefore if you are looking for a hand bag don't miss the deals on the Birthday Sale.
Bags For Men
Men require bags to transport their baggage as much as women need them. It all depends on where you're off to, what you're hauling, and your final destination.
Some types of bags for men are backpacks, briefcases, crossbody bags, and gym bags. Also, the range of colours, materials and sizes vary across bags. When it comes to choosing a crossbody bag like the one featured in this image, there are a few things to keep in mind: the Style and the Size. There are crossbody bags that come in wallet size, and then there are also ones that are the size of a messenger bag. These are quite attractive accessories that complement any outfit.
Leather Bags
When you purchase a bag, it's an investment you make. Therefore, it's wise to get a bag that will last you a long time. Quality leather bags are reliable, and they last for a really long time. Therefore make an investment in a Leather bag this Birthday Sale.
Office Bags
If you carry a plethora of items to your office, including your laptop, notebook, earbuds, phone chargers etc. you need a spacious bag. That's where the office bags come in handy. There are office bags of different styles and designs. Choose an office bag that suits your professional style out of the variety of designs available in your Daraz App.
Travel Bags
Are you looking for a way to take your baggage when you travel on holiday? Then you must have a multipurpose and dependable travel bag in your life. Travel bags come in various sizes, shapes, capacities, and types. Suitcases, duffel bags, and backpacks are all examples of travel bags that fulfil a range of functions. These travel bags may be used for much more than merely accompanying you on your vacations. They can also be used for a variety of other things. Therefore, if you are shopping for a good quality travel bag, check out the offers available during the Daraz Birthday Sale.
We hope you can get amazing deals and discounts on the bags you need during Daraz Birthday. If you are shopping for mobile phones, check out our blog, Best Smartphones Up To 40% OFF.