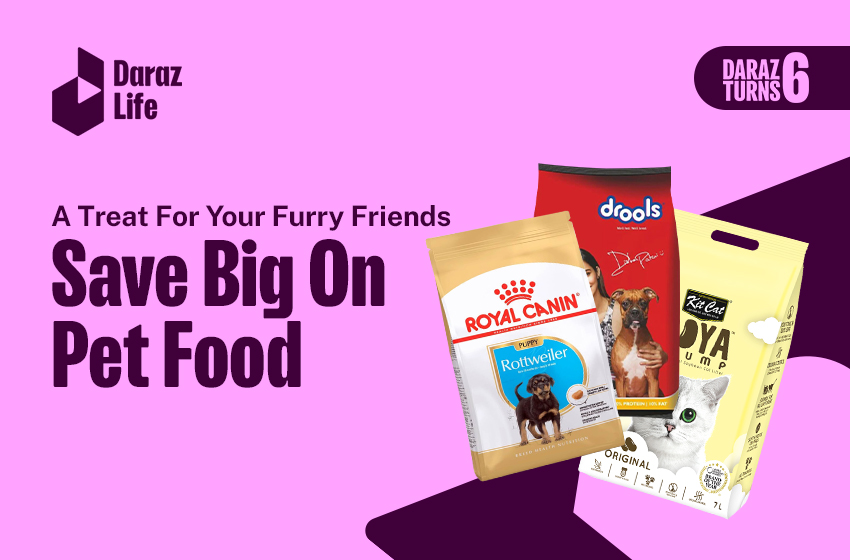 Save Big On Pet Care Supplies
If you are shopping for pet care supplies, you are in luck. You can get the best discounts on pet food and other pet supplies during the Daraz Birthday Sale.
Are you shopping for pet care supplies? Continue reading to find out how you can get the lowest prices on pet food and other accessories for your furry friends.
Best Discounts on Pet Care Supplies During Daraz Birthday Sale
It's time to Celebrate! Daraz is turning 6 years, and we like to celebrate it DARAZ style. Moreover, on our 6th birthday, we know our best GIFT IS YOU! So, we are giving you the chance to shop for all your favourite items with up to 75% OFF. Save more with Bank Card Discounts, Instalment Plans, Valuable Vouchers, and Free Shipping. Also, watch out for amazing giveaways! So, in case you haven't done it already, DOWNLOAD THE DARAZ APP AND JOIN THE BIRTHDAY CELEBRATIONS!
Shop from popular pet care brands on the Daraz platform Drools, Royal Canin, Pedigree, Whiskas, Me-o, Kit cat, Let's bite, Eukanuba, Bite active. Get up to 20% off, along with Free Shipping. Also, collect valuable vouchers and save more. Now that's a super bargain on pet care products you do not want to miss!
Make Use of Discount Vouchers
Don't forget to visit the discount voucher section as you browse your Daraz app for your favourite items. Collect vouchers to get additional discounts, so you can shop till you drop. Download the Daraz app now and have fun shopping.
Most of your favourite brands are already on board to celebrate the Birthday with Daraz. Daraz Mall has Partnered with several brands from multiple categories to bring you the best prices in town. 100% authentic products, with Faster Delivery and a 14-day easy return policy. Look out for the Daraz Mall label at the bottom of the product to distinguish them from the rest.
Let's take a look at some of the pet products available at discounted prices during the sale.
Adult Dog Food
Food is as important to a dog's health as it is to ours. As a result, the food you feed your dog must provide the optimal nutrition it needs for its body to function properly. These adult dog dry foods include a diverse range of nutrients that help to grow every tissue and keep every cellular function working properly. 
Special Breed Puppy
A dog's nutritional needs can vary depending on it's breed. Some breeds require just two meals a day, whereas others require up to four meals a day. Therefore, next time you shop for dog food for your little fur baby, make sure that it fits the breed.
Large Breed Puppy Food
Do you have a large breed dog like a Great Dane or a German Shepeard? If that is the case, giving a large breed dog food that caters to the nutritional needs of an average dog can result in causing your dog harm. Their health could suffer due to the lack of nutrition. Therefore, next time you shop for dog food for your large breed puppy, make sure the label say it's meant  for large breed dogs.
Pet Oral Care
Proper oral care will help keep your pet's dental health problems at bay, such as periodontal disease caused by a buildup of bacteria in the mouth. Therefore, focusing on pet oral care is vital if you really care about your fur baby.
Cat Food (Wet)
There is no one-size-fits-all diet for cats. However, it is better if your cat eats a high-protein, low-carbohydrate diet. Furthermore, there are other aspects to consider while deciding on a nutritious diet for your cat, such as age, life stage, and so on. Therefore, it is best to provide your furball with at least one meal of wet food a day.
Cat Food (Dry)
The main benefits of dry food are its convenience, accessibility, and affordability. Many cats across the world are fed dry food and live long and healthy lives. Dry food may be kept for prolonged periods and provides flexible feeding. Some cats choose to graze on dry food throughout the day rather than during mealtimes when dry food is available. As a result, dry food is easier to use with food dispenser toys for environmental enrichment and brain stimulation.
We hope this blog will help guide you to pick the best food for your much-loved pet. If you are shopping for home appliances, check out our blog Premium Quality Home Appliances Sri Lanka Up To 45% Off