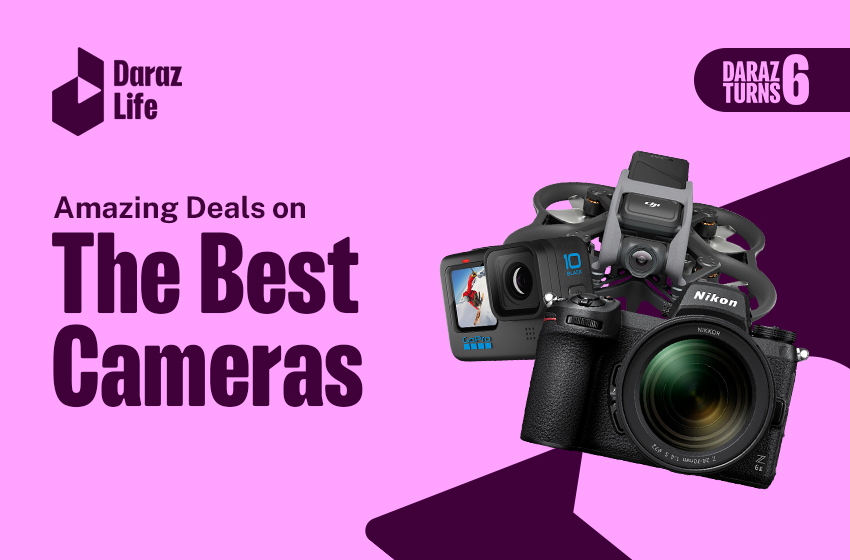 Best Camera Price in Sri Lanka From Daraz Birthday Sale
If you are looking for the best camera price in Sri Lanka, you're in the right place. Ahead, we have listed how you can save big when you shop for cameras during the Daraz Birthday Sale.
Are you looking for the lowest camera price in Sri Lanka? Continue reading to find out how you can get the best discounts on cameras and related accessories when you shop at Daraz's Birthday Sale.
Daraz Birthday Sale Offers The Lowest Camera Price in Sri Lanka
Party Ends Today! Daraz is turning 6 years, and we like to celebrate it DARAZ style. Moreover, on our 6th birthday, we know our best GIFT IS YOU! So, we are giving you the chance to shop for all your favourite items with up to 75% OFF. Save more with Bank Card Discounts, Instalment Plans, Valuable Vouchers, and Free Shipping. Also, watch out for amazing giveaways! So, in case you haven't done it already, DOWNLOAD THE DARAZ APP AND SHOP BEFORE THE SALE ENDS TODAY!
Shop for the best camera price in Sri Lanka from brands on the Daraz platform Canon, Nikon, DJI, Andbon, Gopro, Hikvision, Dahua, DCP, TVT, Xiaomi, No Brand, SJCAM, TVT, and Panasonic. Get up to 20% off, along with Free Shipping. Also, grab bundle offers and save more. Keep an eye out for the Free Gifts tool. Now that's a super bargain on cameras and accessories you do not want to miss!
Make Use of Discount Vouchers
Don't forget to visit the discount voucher section as you browse your Daraz app for your favourite items. Collect vouchers to get additional discounts, so you can shop till you drop. Download the Daraz app now and have fun shopping.
Most of your favourite brands are already on board to celebrate the Birthday with Daraz. Daraz Mall has Partnered with several brands from multiple categories to bring you the best prices in town. 100% authentic products, with Faster Delivery and a 14-day easy return policy. Look out for the Daraz Mall label at the bottom of the product to distinguish them from the rest.
Mid-Range DSLR Camera
Whether you are a beginner in photography or a semi-professional, a DSLR camera is an ideal mid-range camera that is great for capturing moments of all kinds. A DSLR camera will provide you with higher resolution, sharpness, and clarity since it captures the image with a wider sensor and more powerful processing capability. Using a DSLR also provides you with the flexibility to use interchangeable lenses.
Professional Cameras
If you have been in the photography industry for a while and you are looking to upgrade to a professional camera, check out the amazing deals on mirrorless cameras.
Mirrorless cameras are the most recent advancement in professional cameras. They are essentially smaller DSLRs that lack the internal mirror that reflects light onto the sensor.
What's fascinating about mirrorless cameras is that they can capture fantastic, high-resolution photographs with rapid shutter speeds, as well as record super HD films that only the most costly, high-end DSLRs can create.
Overall, it's a hybrid of two popular sorts of digital cameras: a point-and-shoot for its small size and easy settings, and a DSLR for its interchangeable lenses and high output.
Professional Drones
Drones are great for shooting high-quality aerial photos and videos and gathering massive amounts of imaging data. These high-resolution photos may be used to construct 3D maps and even 3D models, both of which have several useful applications. For example, 3D mapping of disaster sites can help rescue crews be better prepared before entering dangerous circumstances. So, if you are looking for a Drone, get the best deals before the Birthday sale ends today.
Dry Cabinets
If you are a photographer working in humid environments like Sri Lanka, you might want to invest in a dry cabinet to safeguard all of your equipment. Dry cabinets provide a humidity-regulated environment. Humidity settings provide you with precise control over the conditions inside the cabinet. If there is a rise or decrease in humidity, the electronics in the cabinet will turn on, adjusting the humidity settings and removing any moisture in the air via the dehumidification process.
Action Cameras
If you are an adrenaline junkie who is always diving deep into adventurous action, you might want to invest in an action camera to save all those memories.
Action cameras are, without a doubt, the most desired camera for outdoor adventurers since they include functions that other devices do not.
Action cameras are ideal for recording breathtaking moments. They are tough, which means they will not dent, scrape, or shatter easily. They can resist any weather, are waterproof, and, best of all, record clear and exhilarating photographs and movies that will make you want to relive your travels over and over again.
CCTV Cameras
With concerns about household security on the rise with the increasing crime rates in Sri Lanka, CCTV cameras are gaining popularity by the day. If you are looking to buy CCTV cameras to enhance the security of your home, grab the best deals on Daraz Birthday Sale before it ends at midnight today.
Hope you will be able to buy your dream camera from the Daraz Birthday sale before it ends tonight. If you are shopping for mobile phones, check out our blog Best Smartphones Up To 40% OFF.