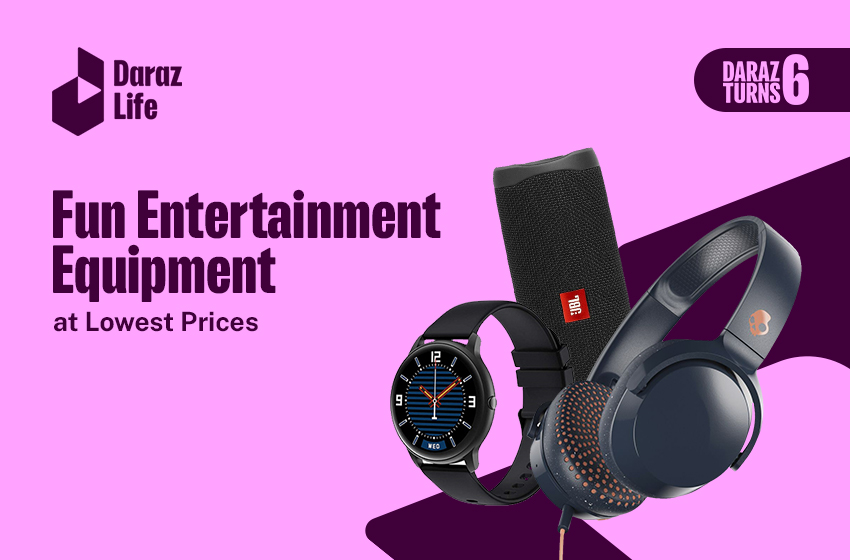 Electronic Gadgets To Elevate Your Daily Entertainment Experience
If you are shopping for electronic gadgets, here's an amazing opportunity to get some great discounts. Daraz Birthday Sale will be going on till midnight, and you can get the best deals on entertainment electronics.
Are you shopping for entertainment electronic gadgets? Continue reading to find out how you can get the best discounts for entertainment electronics.
Electronic Gadgets For Entertainment Up To 35% OFF During Birthday Sale
Party Ends Today! Daraz is turning 6 years, and we like to celebrate it DARAZ style. Moreover, on our 6th birthday, we know our best GIFT IS YOU! So, we are giving you the chance to shop for all your favourite items with up to 75% OFF. Save more with Bank Card Discounts, Instalment Plans, Valuable Vouchers, and Free Shipping. Also, watch out for amazing giveaways! So, in case you haven't done it already, DOWNLOAD THE DARAZ APP AND SHOP BEFORE THE SALE ENDS TODAY!
Shop for big discounts on electronic gadgets from brands on the Daraz platform JBL, Samsung, Nikai, Panasonic, sony, Apple, JVC, Skullcandy, Hisense, MI, Abans, Xiaomi, Orel, Haylou, Amazfit, fantech, LG. Get up to 35% off, along with Free Shipping. Collect valuable discount vouchers and save more. Now that's a super bargain on electronics you do not want to miss!
Make Use of Discount Vouchers
Don't forget to visit the discount voucher section as you browse your Daraz app for your favourite items. Collect vouchers to get additional discounts, so you can shop till you drop. Download the Daraz app now and have fun shopping.
Most of your favourite brands are already on board to celebrate the Birthday with Daraz. Daraz Mall has Partnered with several brands from multiple categories to bring you the best prices in town. 100% authentic products, with Faster Delivery and a 14-day easy return policy. Look out for the Daraz Mall label at the bottom of the product to distinguish them from the rest.

Without further ado, let's take a look at some electronic gadgets that will be at discounted prices.
Speakers
If your inner tech enthusiast is dying to treat yourself to the gift of vibrant music blasting anywhere and everywhere, then this is the perfect time for it. There are a variety of sound accessories for Entertainment, from Bluetooth speakers to subwoofers and Power AMP Car Stereo systems for you to choose from. One of our favorites this season is the JBL Flip 5 Bluetooth speaker. You can take this on any road trip without having to worry about charging it for up to 20 hours, thanks to the great battery life. It allows you to connect up to 2 smart devices. So, if you are looking to get a speaker, do not miss out on the discounts available during the Daraz Birthday Sale.
Smart TV
Although most of us can now get our entertainment requirements fulfilled by our laptops or smartphones – a TV is still irreplaceable. We could all use a large screen for entertainment to turn to on our breaks.
Home Theatre Systems
By adding a home theatre system, you can transform your house into the ultimate entertainment hub. Despite the fact that most of us consider home theatre to be a luxury, with the deals and discounts available in Birthday Sale and instalment payment options, a home theatre system can be quite affordable.
Headphones
Most over-ear headphones provide outstanding sound and noise isolation, whether you need to focus while working from home, want some musical companionship while taking a stroll in the park, or need to block out noise during your bus commutes. Many headphones come with a microphone for voice and video chats, as well as noise-cancellation. Therefore, it's ideal to own over-the-ear headphones.
Airpods
If you are a devoted user of Apple devices, it's almost vital that you include AirPods in your collection. These are great when you are walking, working out or running. If you are looking to buy AirPods, simply get in your Daraz app and get it for the lowest price by making the most of the discounts and offers available during the Daraz Birthday Sale.
Wireless Earbuds
Are you in search of an affordable pair of earbuds that offers a quality listening experience? Search no more because these Haylou GT7 True Wireless Earbuds tick off all the boxes. It comes in a cute compact charging case with a display, so you can monitor the charge of the earbuds. Additionally, it has an automatic pairing function, allowing you to pop them in your ears and instantly listen to music.
Hurry up and go get your entertainment electronics before the Daraz Birthday Sale ends. It's an opportunity that comes once a year. If you are shopping for cameras, check out our blog, Best Camera Price in Sri Lanka From Daraz Birthday Sale.