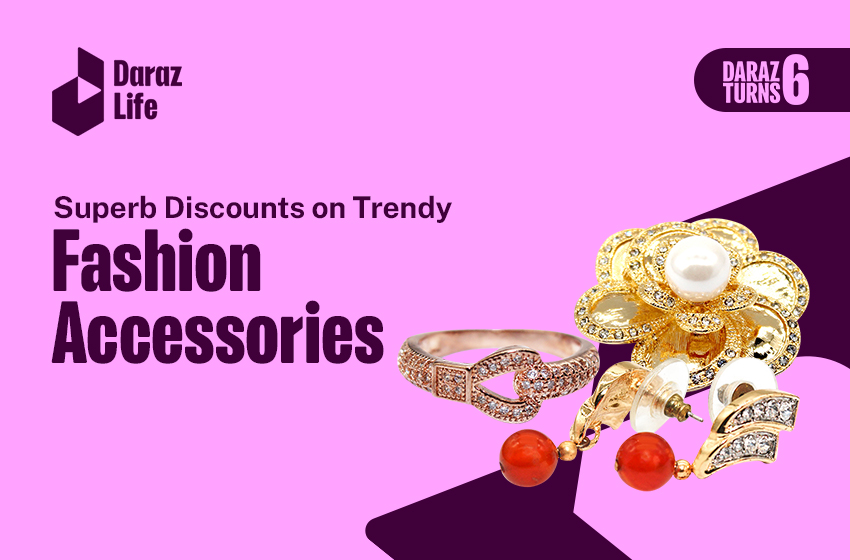 Superb Discounts on Trendy Fashion Accessories
If you are shopping for fashion accessories, you are in the right place. Daraz Birthday Sale is live till midnight, so you can grab amazing deals on your favourite jewellery, watches and sunglasses.
Are you shopping for fashion accessories? Read on to find out how you can get the best discounts on jewellery and hair accessories during the Daraz Birthday Sale.
30% OFF on Trendy Fashion Accessories During Daraz Birthday Sale
Party Ends Today! Daraz is turning 6 years, and we like to celebrate it DARAZ style. Moreover, on our 6th birthday, we know our best GIFT IS YOU! So, we are giving you the chance to shop for all your favourite items with up to 75% OFF. Save more with Bank Card Discounts, Instalment Plans, Valuable Vouchers, and Free Shipping. Also, watch out for amazing giveaways! So, in case you haven't done it already, DOWNLOAD THE DARAZ APP AND SHOP BEFORE THE SALE ENDS TODAY!
Shop for big discounts on trendy fashion accessories from brands on the Daraz platform like Stone and String and Ruach. Get up to 30% off, along with Free Shipping. Collect valuable discount vouchers and save more. Now that's a super bargain on fashion accessories you do not want to miss!
Make Use of Discount Vouchers
Don't forget to visit the discount voucher section as you browse your Daraz app for your favourite items. Collect vouchers to get additional discounts, so you can shop till you drop. Download the Daraz app now and have fun shopping.
Most of your favourite brands are already on board to celebrate the Birthday with Daraz. Daraz Mall has Partnered with several brands from multiple categories to bring you the best prices in town. 100% authentic products, with Faster Delivery and a 14-day easy return policy. Look out for the Daraz Mall label at the bottom of the product to distinguish them from the rest.
Let's take a look at which accessories will be available at discount prices.
Necklaces
A necklace is by far the most appealing piece of jewellery a lady may wear. It's an item that can set you apart from the rest. Furthermore, it is an excellent piece of jewellery for glamming up for a dinner date, a party, or any other special event. It's also a great way to add a feminine touch.
Wearing a necklace might help you draw attention to yourself. You may also play around with different styles or make a statement by matching your necklace to your clothing. Furthermore, necklaces can be worn for a variety of purposes, including self-expression. So, buy a necklace that suits your style before the Birthday Sale ends.
Hair Accessories
Online hair accessory trends gain more and more popularity each year. Many are paying attention to how they adorn their hairstyles. Therefore, staying on top of hair accessory trends is crucial for the contemporary generation. Additionally, if you are someone who likes to match your outfit and accessories every day, you might want to add some trending hair clips, scrunchies, hair bands, and other accessories to your fashion wardrobe. Get yourself the best deals on hair accessories before midnight.
Bracelets
Bracelets are another must-have accessory that never goes out of style. These are also said to represent sophistication and add refinement to a woman's appearance. Bracelets are available in a variety of materials, styles, and colors. Tennis bracelets, charm bracelets, slider bracelets, beaded bracelets, and pearl bracelets are the most popular forms of bracelets. So, if you are shopping for a bracelet, don't delay getting on your Daraz app and placing an order.
Earrings
Nothing can turn around an outfit like a striking pair of earrings. Earrings lend appeal to a woman's appearance, adding to her looks and enhancing beauty, fashion and sense of style. Therefore, you have every excuse to get as many pairs as possible during a big sale like the Daraz Birthday sale.
Rings
Fashion rings are always popular. Delicate and simple rings are incredibly lovely and, when worn right, can enhance the look of your outfit. Rings can be worn in several ways. One approach is stacking multiple rings on a finger. Always ensure each of them has a comparable design. If you choose to stack them, make sure they are very thin and fit together well. Fashion rings are available in a number of styles. Choose a design that complements your personality, and you can flaunt your beautiful fingers with pride.
Brooches
A brooch is a piece of ornamental jewellery meant to be attached to clothing, generally to tie it together. It is normally made of metal, most frequently silver or gold, although it can also be made of other materials. It also helps to draw attention to a part of your outfit. Also, if you feel like your outfit is too plain for a certain occasion, you can quickly turn things around by attaching a brooch.
We hope you will be able to upgrade your fashion accessories box with some new items from the Daraz Birthday Sale. If you are shopping for bags, check out our blog, Bags in Sri Lanka For Every Occasion.