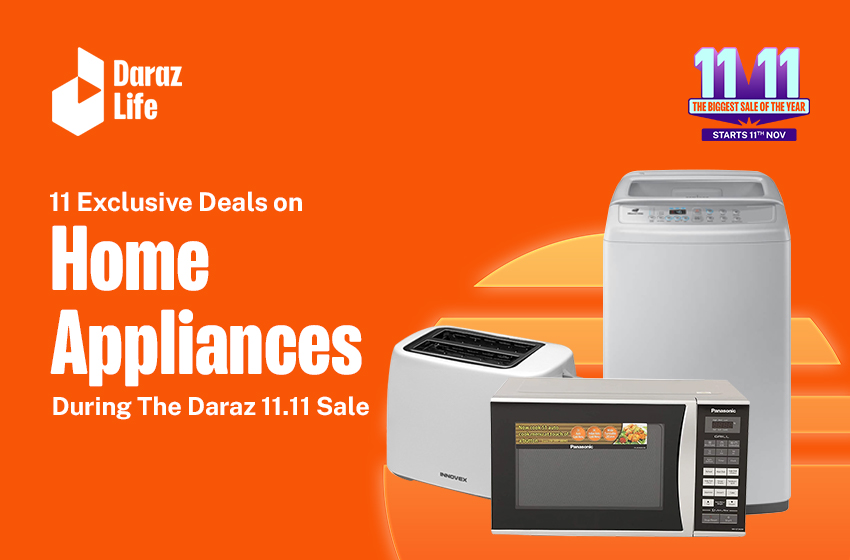 The Best Home Appliances Price in Sri Lanka During Daraz 11.11
If you are searching for the best home Appliances Price in Sri Lanka, Daraz 11.11 is nearly here. Continue reading to find out 11 home appliances that will be available at unbelievable prices.
Are you searching for the lowest home appliances price in Sri Lanka? Ahead we discuss how you can make the most of the deals and discounts available before and during 11.11, the biggest sale of the year, to get all the home appliances you require for your household.
Best Home Appliances Price in Sri Lanka During 11.11 With Unbeatable Deals and Discounts
The Nation's Biggest Sale of the Year is Finally Here! Make all your wildest shopping fantasies a reality with up to 85% OFF starting the 11th of November. Get an additional 12% off on bank cards and Instalment plans at 0% interest. Shop everything at the lowest prices with unbelievable Mega Deals, Points discounts, Instalment plans, Daraz club rewards, games, and exciting giveaways. Download the Daraz App and join the wildest shopping fantasy of the year!
If you are shopping for home appliances, there is no better time than now. Get up to 45% OFF and free shipping when you shop home appliances from popular brands like LG, Innovex, LG, Hisense, Abans, Geepas, Singer, ELBA, Unilever Pureit, Arpico, Sisil, NIKAI, Universal, Pigeon, AIRSONIC, Nippon, Prestige, Kawashi, National, Samsung, Xiaomi MI, BROWNS, Ariston, Midea, Earth Star, Den-b, Indesit, Surya, Krypton, Tecsonic, Sokany, Bowei, Panasonic, Bajaj, Taiko, Range, OLik, Black & Decker, Delmege, Richsonic, Sharp, Hafele, Midea, and Ariston.
In addition, collect valuable vouchers and opt for easy installment payments with 0% interest, so you can all the home appliances you need.
Spin The Wheel of Fortune & Win A Trip to Dubai
Are you ready to win a dream vacation for Rs 1000? Shop on Daraz for Rs 1000 or more from the 1st of November and receive an SMS from Daraz to Spin the Wheel of Fortune. Stand a chance to win fabulous giveaways;
A Holiday to Dubai
Weekend Getaway at Shangri La, Hambantota
Overnight Stay at Hikka Tranz
Fine Dining at Cinnamon Lakeside
Daraz Vouchers Worth up to LKR 850,000
So, get on your Daraz App and be a lucky winner of our fabulous giveaways.
Collect Vouchers & Double Your Savings
Do you know the best way to get savings on top of savings when you shop on Daraz? Collect Daraz vouchers to get big discounts when you checkout your favorite products. There are four different types of vouchers available on your Daraz App.
Daraz Vouchers – Discounts under specific item categories, such as fashion, lifestyle goods etc, that can be used sitewide.
Shipping Vouchers – Gives you discounts on shipping fees
Bank Vouchers – Vouchers issued by specific banks that allow you to get a discount when you shop with one of their bank cards.
Store Vouchers – Offered by the stores on the Daraz platform to get discounts when you shop for products from a specific store.
When you collect all of these vouchers and stack them together, you are able to obtain the best discount at the checkout when you purchase your favorite products. So don't forget to collect vouchers before you head to checkout when you make a purchase on Daraz.
Let's take a look at some of the appliances that you can get at exclusive discounts.
Washing Machines
Are you tired of having to wash your clothes by hand almost every day? Give yourself a break and get a washing machine that will do the job for you. Whether you are looking for a front load washer, fully automatic, or semi-automatic top load washer, you are sure to find a machine that fits your budget. Check out washing machines from popular brands like LG, Abans, Innovex, Singer, and Sisil for top discounts. If you are feeling lucky, participate in Daraz 1 Rupee Game to win a washing machine.
Fridges
Have you been waiting to replace your old refrigerator with a new one? Do not miss out on the amazing price drops on refrigerators during 11.11. Watch out for Mega deals and other amazing offers nearing the date of the sale.
Steam Irons
If you want to give your clothes a professionally pressed look, you should own a steam iron. The steam helps keep the clothing fibers in place for longer, enhancing the appeal of your clothing. Check out steam irons from brands such as Sokany, Kawashi, and Tecsonic and make use of the price drops and discount vouchers.
Microwaves
If you are someone who is pressed for time and loves quick fixes, a microwave will save your day. You can reheat food or defrost frozen food in a matter of minutes. Additionally, a microwave can help prepare some of your favorite dishes. Therefore if you don't have a microwave already, the 11.11 is a great chance to buy one.
Hand Mixers
Are you a baking enthusiast? In that case, you would be excited to know hand mixers will be available at discounted prices during the biggest sale in the nation.
Blenders
A blender is a must-have home appliance in every kitchen. Therefore if you are waiting to buy a blender for your new kitchen or upgrade your old one, don't forget to log into your Daraz App and shop during the 11.11 sale.
Ovens
If you love baking or enjoy eating baked food, you absolutely must have an oven in your kitchen. Don't forget to collect discount vouchers to get the lowest price on ovens.
Toasters
There's nothing like a crispy toast of bread with butter for breakfast. If your family enjoys eating toasted bread, this is the best time of the year to get a toaster. So add this appliance to your cart, and when the discounts add up for all your appliances, you might even be getting the toaster for free.
Water Heaters
If you have taken a shower during a cold and rainy day, you understand why your household requires a water heater. Therefore, if you have been waiting to get your hands on a water heater, take a loot at the options available during 11.11.
Fans
If you feel like your living room, bedroom or any other part of your household requires additional aeration; you might want to take a look at the offers on fans during the biggest sale in the nation. The best part is it will be delivered to your doorstep, so you do not have to worry about the hassle of transporting it.
Rice Cookers
The staple food of Sri Lanka is rice. Therefore, it's obvious that every household could use a rice cooker. So, if you feel the need to get a rice cooker for your kitchen, check out the discounts available on 11.11.
We hope you will be able to get the best home appliances price in Sri Lanka during the Daraz 11.11 Sale. Tune into this space to find out more offers and fantastic giveaways. If you are not a part of the Daraz Club make sure you join to get exclusive rewards and discounts. Read Introducing Daraz Club: Special Perks and Benefits For Members to learn more.