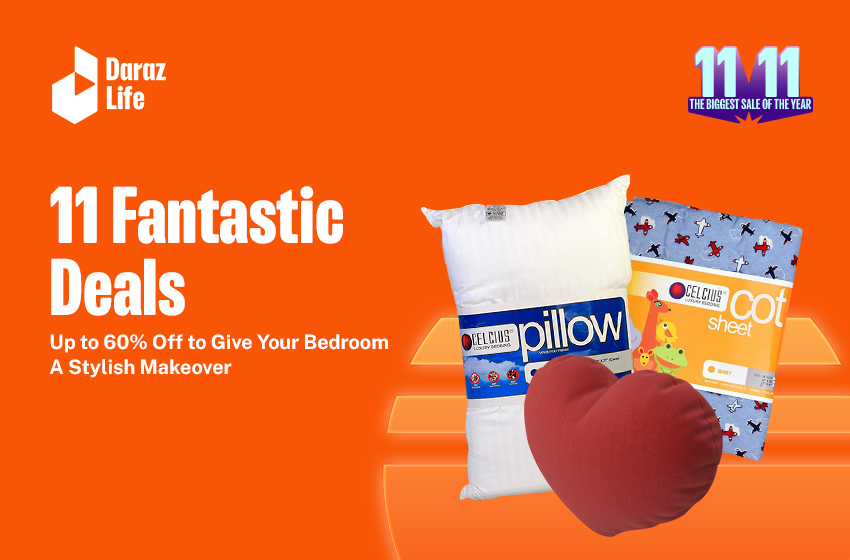 11 Fantastic Deals on Bedding Sets and More During  Daraz 11.11
Daraz 11.11 is almost near, and it's the perfect time to save up on bedding sets and other bedroom essentials. Continue reading to find out 11 items you can get at super amazing prices during the sale.
Are you shopping for bedding sets and other items you need to upgrade your bedroom space? Ahead we have listed the brands offering the best deals on bath and bedding items. Additionally, read on to find out how you can get save the most during the Daraz 11.11 sale.
Daraz 11.11: Up To 60% Off on Bedding Sets and Other Bedroom Essentials
The Nation's Biggest Sale of the Year is Finally Here! Make all your wildest shopping fantasies a reality with up to 85% OFF starting the 11th of November. Get an additional 12% off on bank cards and Instalment plans at 0% interest. Shop everything at the lowest prices with unbelievable Mega Deals, Points discounts, Instalment plans, and Daraz club rewards. Also, don't forget to participate in games and win exciting giveaways. Download the Daraz App and join the wildest shopping fantasy of the year!
If you are shopping for bedding sets and other requirements for your bedroom, there is no better time than now. Get up to 60% OFF and free shipping when you shop bedroom essentials from popular brands like Celcius, The Bedsheet factory, Southern Smart, linberry, Halcyon, Mirani Mosquito Net, and Comfort Linen Company (Pvt) Ltd.
In addition, collect valuable vouchers and opt for easy installment payments with 0% interest, so you can have all the bedroom items you need.
Spin The Wheel of Fortune & Win A Trip to Dubai
Are you ready to win a dream vacation for Rs 1000? Shop on Daraz for Rs 1000 or more from the 1st of November and receive an SMS from Daraz to Spin the Wheel of Fortune. Stand a chance to win fabulous giveaways;
A Holiday to Dubai
Weekend Getaway at Shangri La, Hambantota
Overnight Stay at Hikka Tranz
Fine Dining at Cinnamon Lakeside
Daraz Vouchers Worth up to LKR 850,000
So, get on your Daraz App and be a lucky winner of our fabulous giveaways.
Collect Vouchers & Double Your Savings
Do you know the best way to get savings on top of savings when you shop on Daraz? Collect Daraz vouchers to get big discounts when you checkout your favorite products. There are four different types of vouchers available on your Daraz App.
Daraz Vouchers – Discounts under specific item categories, such as fashion, lifestyle goods etc, that can be used sitewide.
Shipping Vouchers – Gives you discounts on shipping fees
Bank Vouchers – Vouchers issued by specific banks that allow you to get a discount when you shop with one of their bank cards.
Store Vouchers – Offered by the stores on the Daraz platform to get discounts when you shop for products from a specific store.
When you collect all of these vouchers and stack them together, you are able to obtain the best discount at the checkout when you purchase your favorite products. So don't forget to collect vouchers before you head to the checkout when you make a purchase on Daraz.
Win Fabulous Prizes With 1 Rupee Game
How would you like to win an iPhone 14, a washing machine, or a 43-inch TV for just 1 Rupee? You read that right! Get on your Daraz App, play the 1 Rupee Game starting from the 1st of November, and win amazing prizes. Check out the 1 Rupee Game home page to see the products you can win.
All you have to do is get on your Daraz App, choose the product you want to win on the 1 Rupee Game Home Page, add it to your cart, and checkout using 1 Daraz Point. Please note that you must activate your Daraz Points to participate in this game. So, get on your Daraz App and activate Daraz Points now.
Pillows
Experts recommend that it's ideal if you can change your pillows every one to two years. If you are hunting for the perfect pillow, here is a chance you do not want to miss. Popular bedding brand Celcius will be giving out a buy 1 get 1 free offer on their cozy ad comfortable pillows. Check out our other brand partners highlighted above to see more offers.
Fitted Bed Sheets
Fitted sheets are extremely convenient in this day and age. They can save you the precious time you would otherwise have to arrange your bed linen daily. With fitted bedsheets, all you have to do is simply smooth out your bedsheet with your hand right after you jump out of bed. Therefore, check out the Bedsheet factory for fitted bed sheets of your favorite colors.
Mosquito Nets
One of the downsides of living in a tropical climate is the mosquito menace. However, thanks to the high-quality mosquito nets available through our brand partners Southern Smart and Mirani Mosquito Nets, you and your loved ones can protect yourselves from mosquitoes.
Mosquito Nets For Babies
If you have an infant or toddler in your home, then it is vital to protect them from mosquito bourne diseases such as dengue and malaria. So, if you are looking for mosquito nets for children, you can get them from the Daraz 11.11 sale at discounted prices.
Decorative Pillows
If you are looking to make your bed more stylish and comfortable at the same time, you can add a few throw pillows to your bed. They can easily add a touch of fancy to your bedroom space.
Floor Mats
Keep the dirt off your bedroom floor. Get your bedroom a floormat and throw it in the entrance so your room will remain free of dust and dirt.
Pillow Cases
Pillowcases make sure that your pillows are protected from the dirt and the oils of your hair that can contaminate them. Therefore, there is no better time than the Daraz 11.11 sale to get your bedroom pillowcases.
Contoured Pillow
These pillows provide amazing support to the head and the neck. Therefore it helps to keep a good spinal posture while you sleep.
Handloom Bedsheets
If you want to add some color to your bedroom, it would be a fantastic idea to use handloom bedsheets. Check out the variety of handloom sheets available on your Daraz App.
Duvets
A duvet can always give your bed a stylish and comfortable look and feel. Additionally, you can always cover your bed with the duvet when you don't have the time to make your bed. So, keep an eye out for price drops on Duvets.
Cot Sheets For Babies
Protect your baby's cot mattress in their early years. Make use of the discounts available during Daraz 11.11 to get cot sheets that last for a while.
Hope you will be able to make use of the great offers available during Daraz 11.11. If you are shopping for home appliances, check out 11 Exclusive Deals on Home Appliances During The Daraz 11.11 Sale.