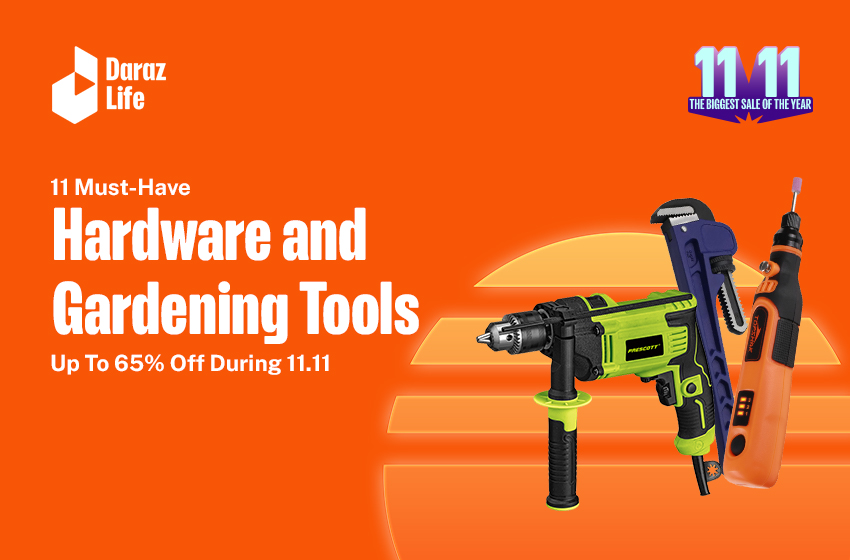 11 Must-Have Hardware and Gardening Tools: Up To 65% Off
If you are searching to buy hardware and gardening tools, get ready to save big time on your purchase. Shop on Daraz 11.11 Sale to steal the best discounts in town.
Are you shopping for hardware and gardening tools? Continue reading to find out how you can enjoy the biggest savings when you shop on Daraz 11.11.
Up To 65% Off on Hardware and Gardening Tools From Daraz 11.11
Get ready for the biggest sale of the year starting on the 11th of November with up to 85% Off. Grab an additional 12% off on bank cards and Instalment plans at 0% interest. Shop with your debit cards and get 25% Off. Save big time on everything you need at the lowest prices with unbelievable Mega Deals, Points discounts, Instalment plans, and Daraz club rewards. Also, don't forget to participate in games and win exciting giveaways. Download the Daraz App and join the wildest shopping fantasy of the year!
If you are shopping for hardware tools and gardening tools, there is no better time than now. Get up to 65% OFF and free shipping when you shop for stationery items during the sale. Get huge discounts when you shop from stores like ALUMEX PLC, HOMEMART, Live With Us, Outside Edge Solutions (PVT) Ltd., Presscot tools, Serendib Hardwares Stores, S-LON Lanka Pvt Ltd, SWISSTEK, Kevilton Electrical Products Pvt Ltd, Nalinda Super Centre (Pvt) Ltd. Also, keep an eye out for free gifts when you shop for these brands. In addition, collect valuable vouchers and opt for easy instalment payments with 0% interest, so you can buy all the handyman tools you need to last throughout the years.
Spin The Wheel of Fortune & Win A Trip to Dubai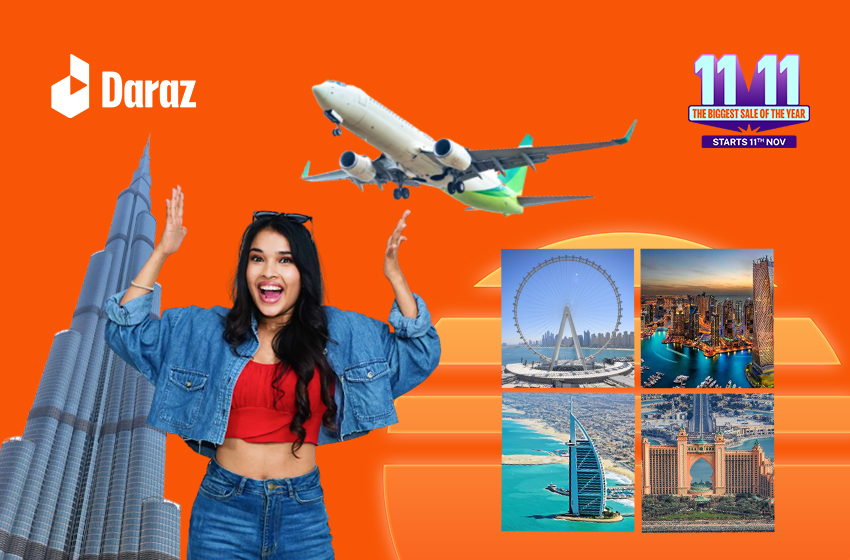 A Holiday to Dubai
Weekend Getaway at Shangri La, Hambantota
Overnight Stay at Hikka Tranz
Fine Dining at Cinnamon Lakeside
Daraz Vouchers Worth up to LKR 850,000
Win Fabulous Prizes With 1 Rupee Game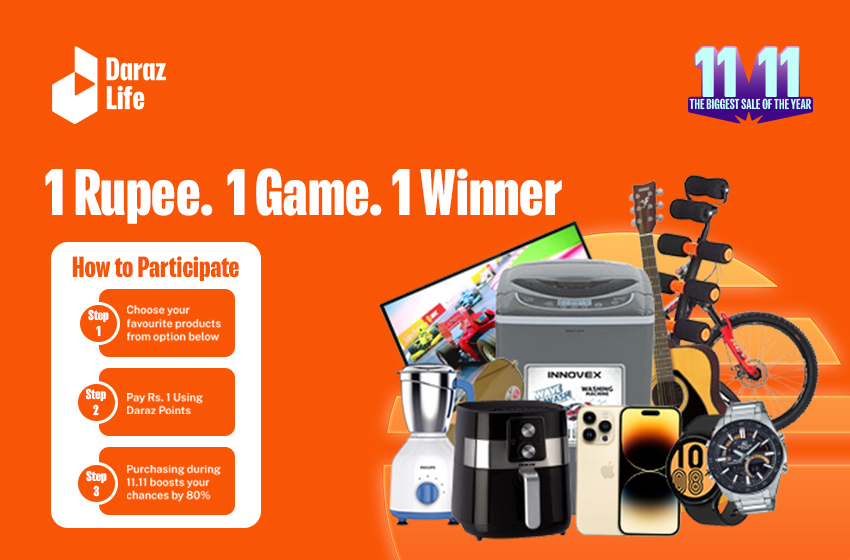 How would you like to win an iPhone 14, a washing machine, or a 43-inch TV for just 1 Rupee? You read that right! Get on your Daraz App, play the 1 Rupee Game starting from the 1st of November, and win amazing prizes. Check out the 1 Rupee Game home page to see the products you can win.
All you have to do is get on your Daraz App, choose the product you want to win on the 1 Rupee Game Home Page, add it to your cart, and checkout using 1 Daraz Point. Please note that you must activate your Daraz Points to participate in this game. So, get on your Daraz App and activate Daraz Points now.
Collect Vouchers & Double Your Savings
Bank Vouchers – Vouchers issued by specific banks that allow you to get a discount when you shop with one of their bank cards.
Store Vouchers – Offered by the stores on the Daraz platform to get discounts when you shop for products from a specific store.
When you collect all of these vouchers and stack them together, you are able to obtain the best discount at the checkout when you purchase your favorite products. So don't forget to collect vouchers before you head to the checkout when you make a purchase on Daraz.
Are you looking for original products? Get authentic products for the lowest prices when you shop at Daraz Mall. Furthermore, Daraz Mall has more than 450 brands on board. You can get 100% authentic products with Faster Delivery and a 14-day easy return policy.
Get 100% Original Products on Daraz Mall

Are you looking for original products? Get authentic products for the lowest prices when you shop at Daraz Mall. Furthermore, Daraz Mall has more than 450 brands on board. You can get 100% authentic products with Faster Delivery and a 14-day easy return policy.
While you search for your favourite products on Daraz Mall, keep an eye out for the Golden Ticket. It's a Daraz Mall voucher which is applicable to any Daraz Mall product. One Golden ticket drops every once in 5 hours. If you are lucky enough to find the ticket, you can save Rs. 10,000 on your next Daraz Mall purchase.
Without further ado, let's take a look at 11 must-have hardware and gardening tools that will be at discounted prices.
Ladders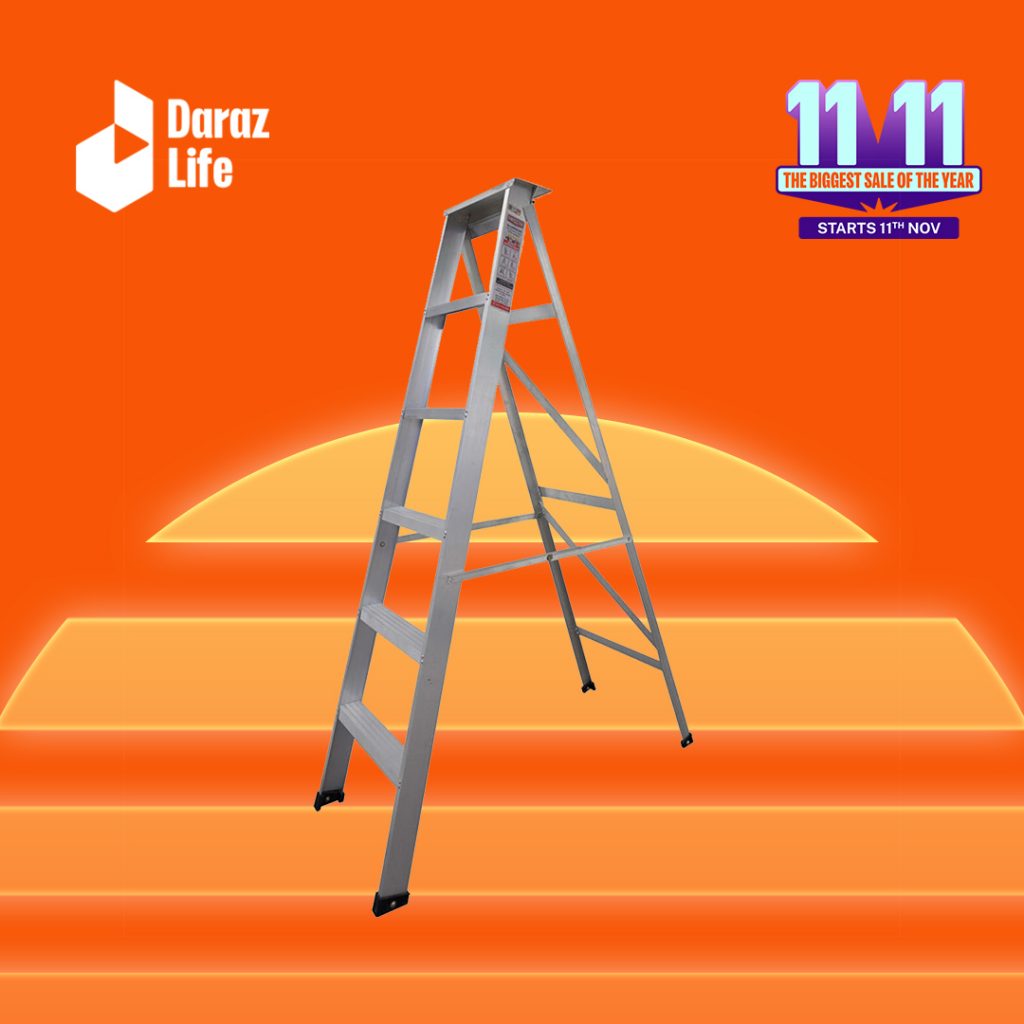 A ladder is a household essential. Therefore if you do not own one already Daraz 11.11 is the best time to buy one at a discount.
Wrenches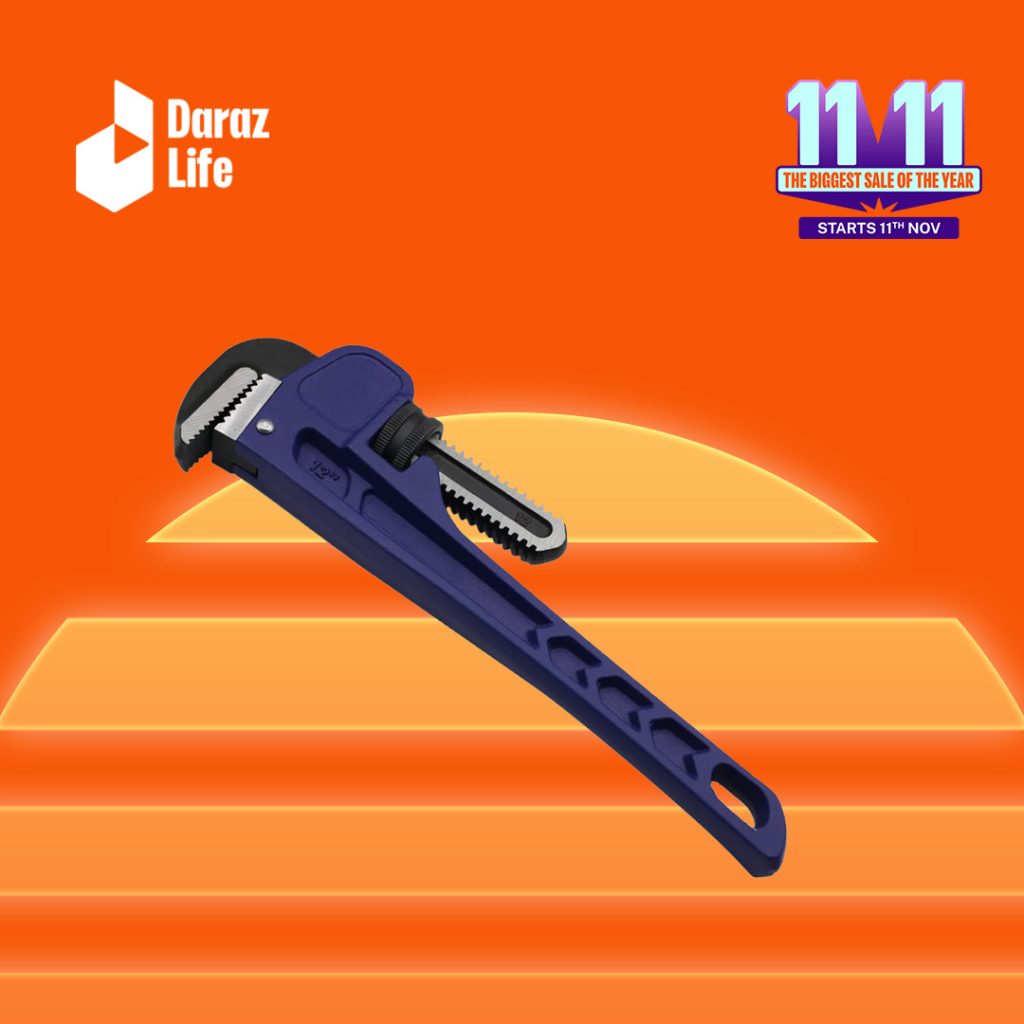 If you ever encounter a leak in your plumbing, the first idea that might occur to you is to tighten the pipe with a wrench. So, make sure you own a pipe wrench because you never know when it might come in handy.
Hardware Tools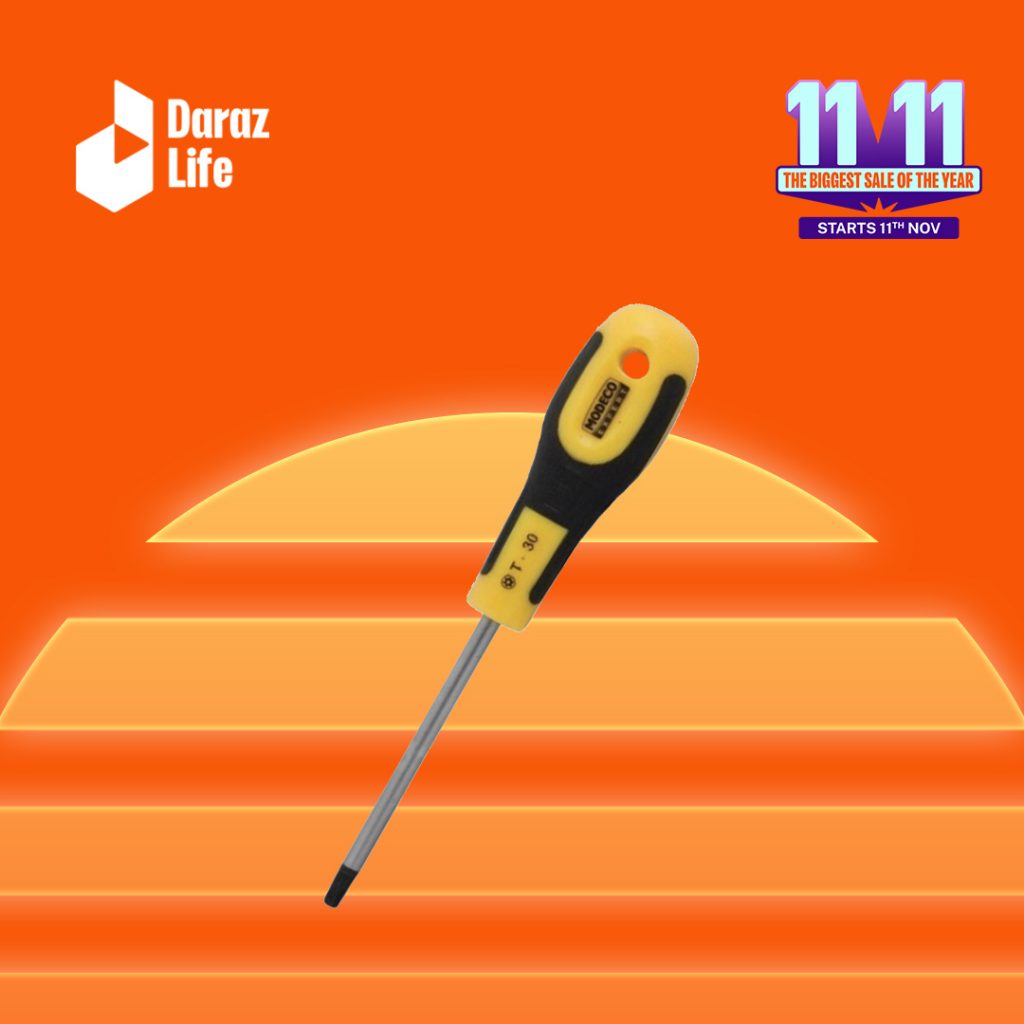 Calling a handyman every time something breaks in your household is not practical. Therefore it's always essential to hold on to a few hardware tools. Most of the little things that need fixing around the house are DIY jobs. All you require are the right tools.
Power Tools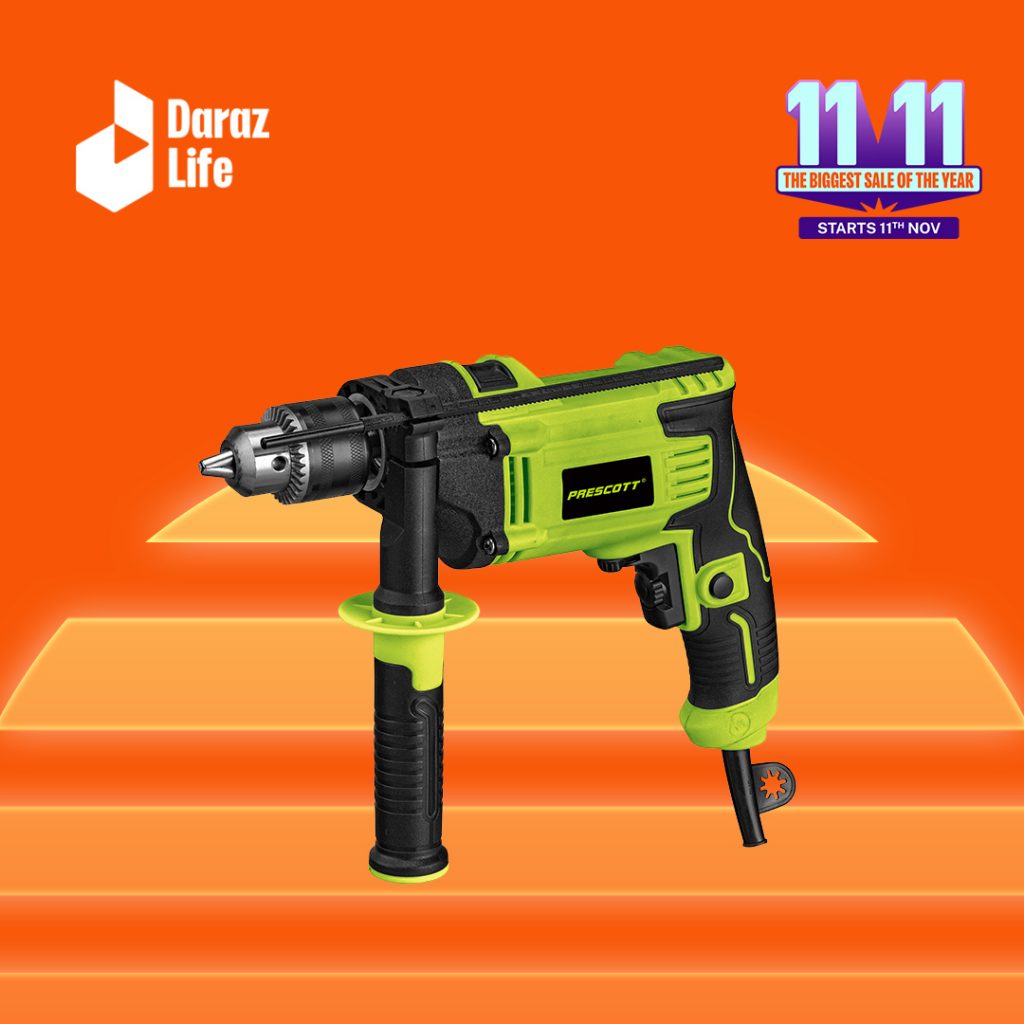 If you are a semi-pro handyman, you probably know your way with power tools. So it doesn't hurt to own a few power tools for your building and fixing projects.
Spanners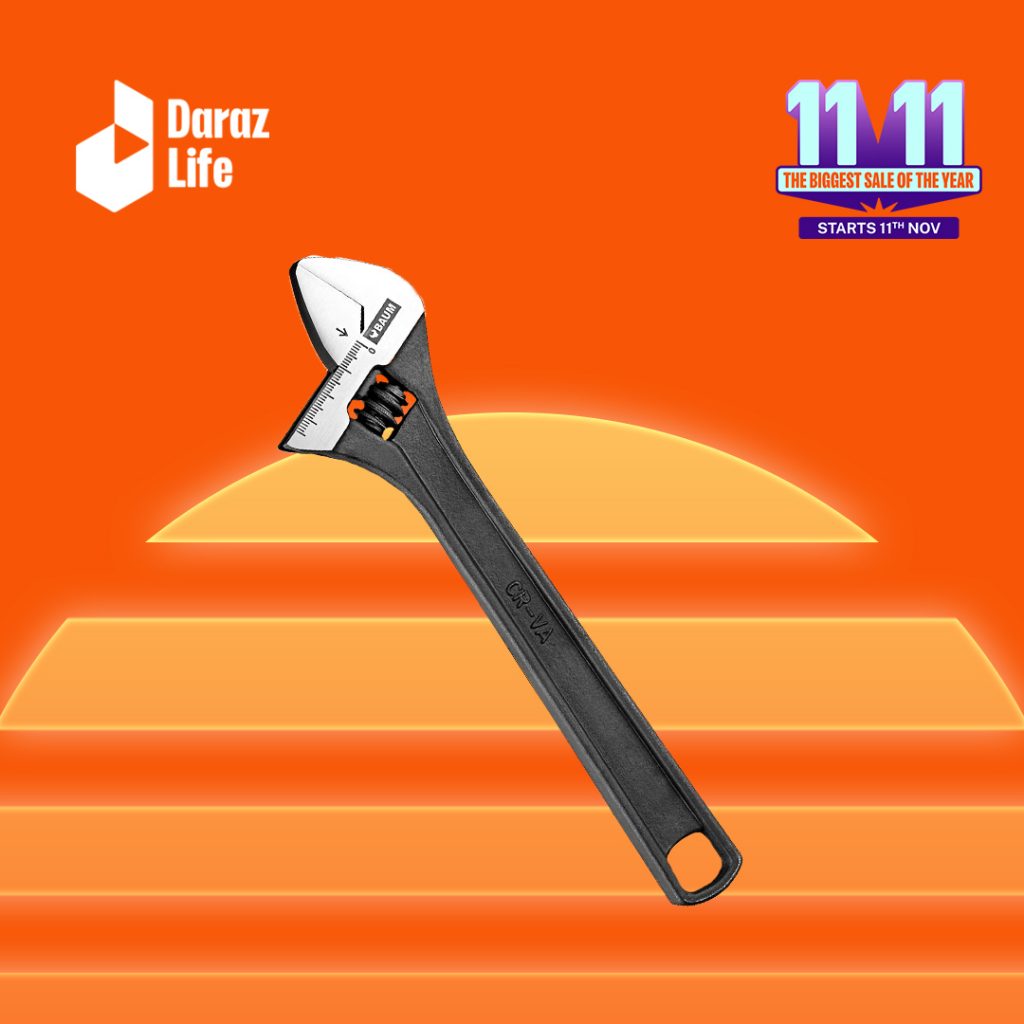 If you have any loose nuts and bolts around the house, you need a spanner to tighten them. Therefore we decided to feature the spanner as a must-have hardware tool on our list.
Saws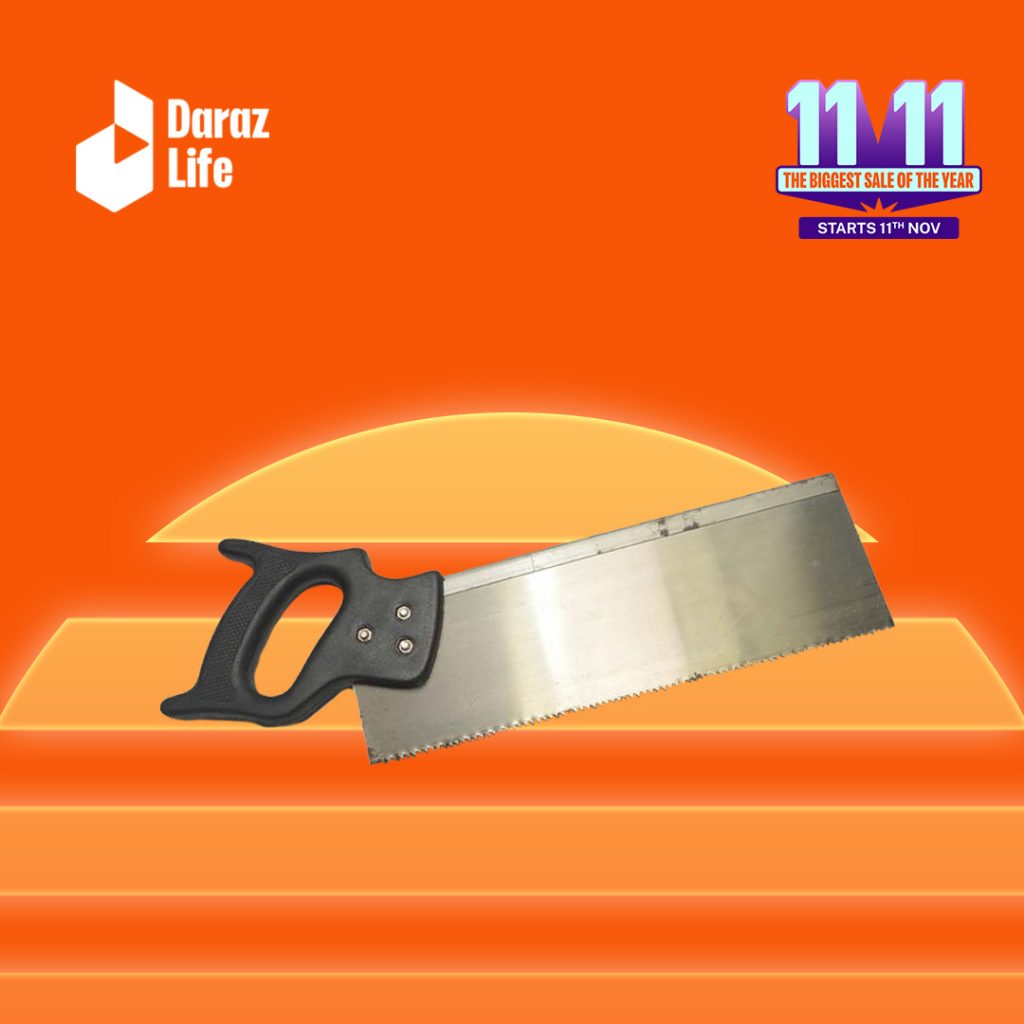 If you are into cutting and shaping solid material, owning a saw is important.
Grinder Machine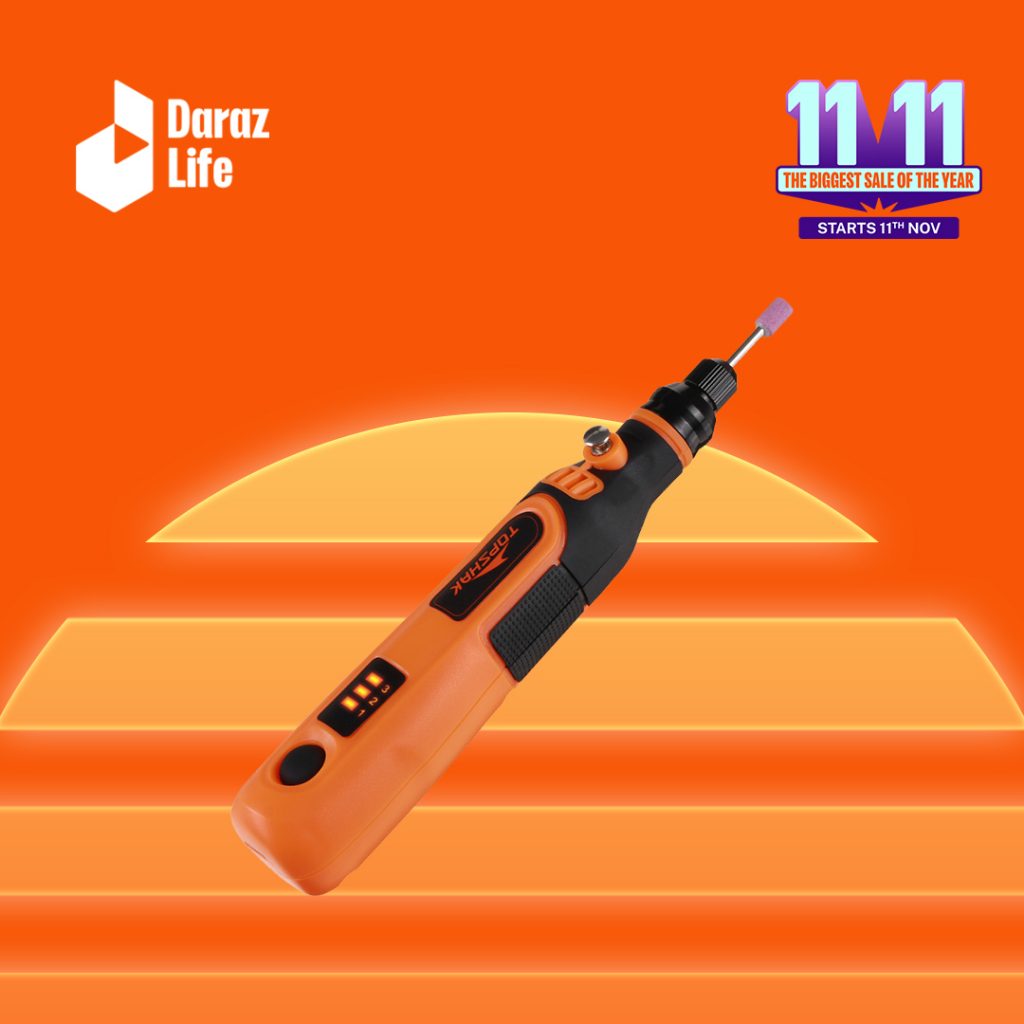 If you are a professional handyman with a workbench, it's more than likely you require a grinder machine. So, get the lowest price on Grinding machines when you purchase during Daraz 11.11.
Electrical Tools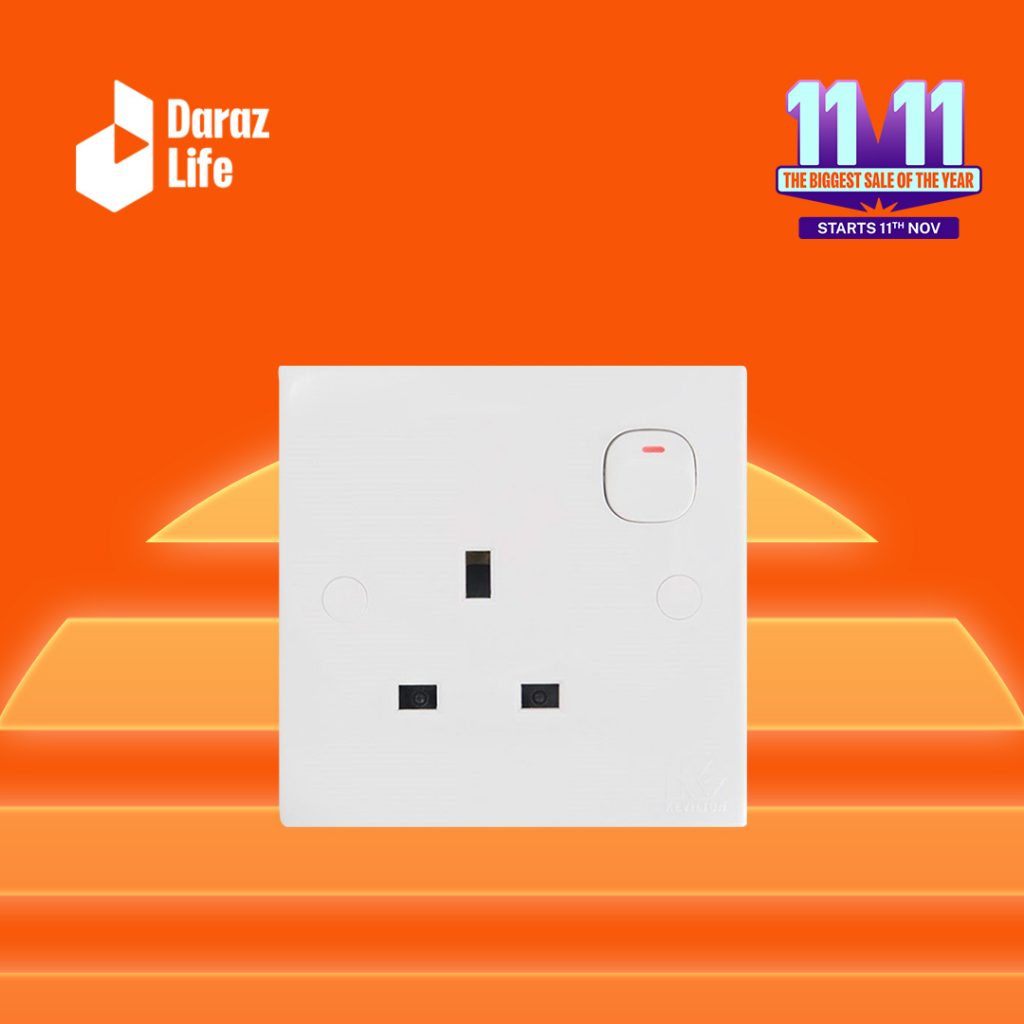 You'll never know when an electrical plug or any other electrical tool will be required. Therefore it doesn't hurt to purchase some of these tools from a sale and keep them in a safe place.
Gardening Tools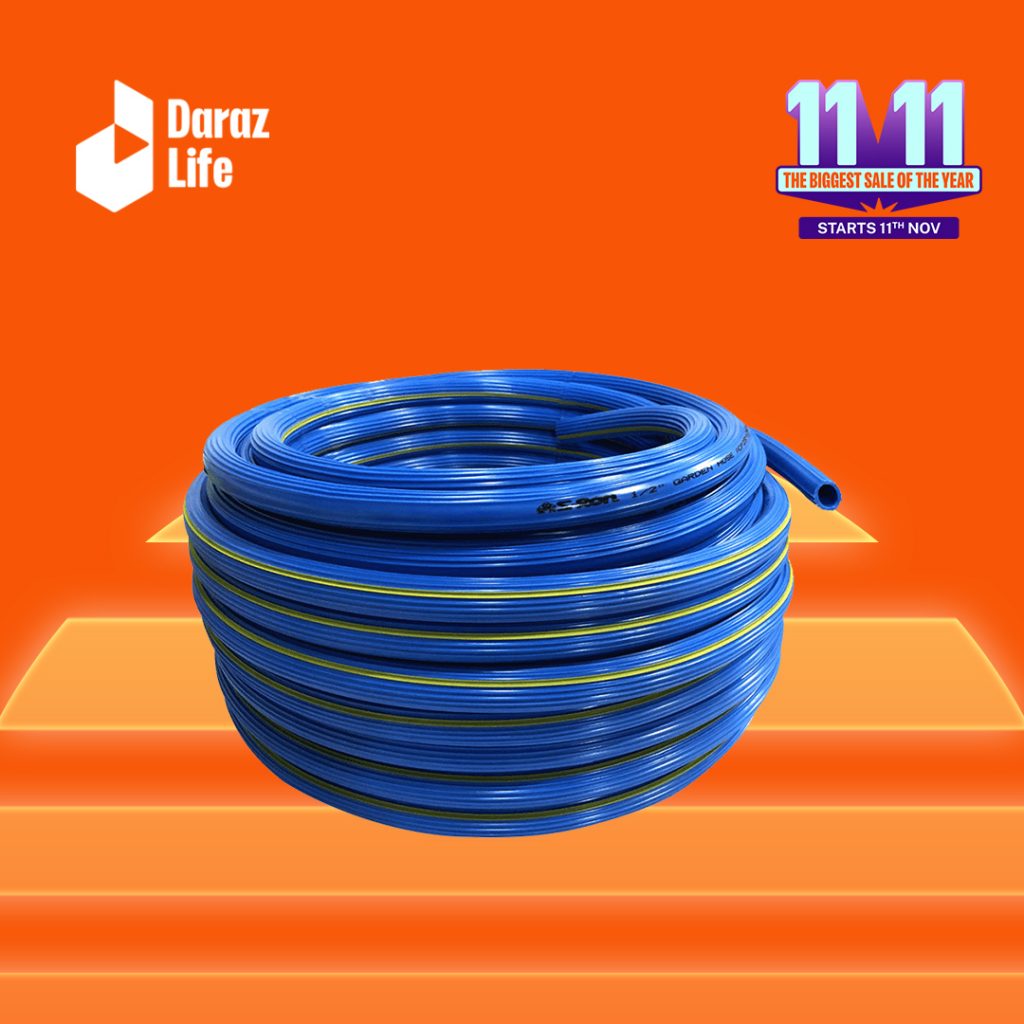 A well-maintained garden is a pleasant sight. Additionally, if you're into gardening and love to keep your plants looking healthy and gardens looking pretty, Daraz 11.11 is an ideal opportunity to get gardening tools at discounted prices.
Grass Cutting Machine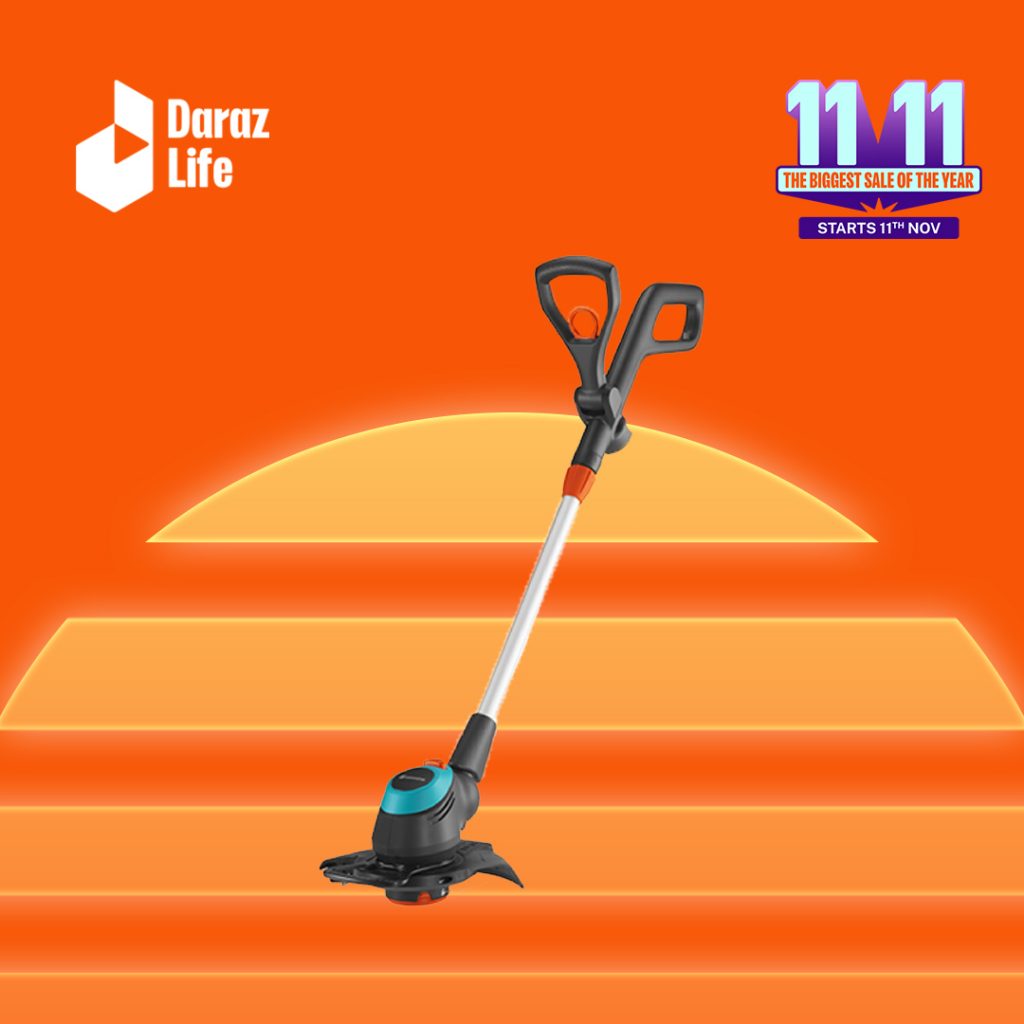 If you are tired of cutting grass for hours manually, you deserve to get a grass-cutting machine. This is especially true if you have larger turf of grass.
Hammers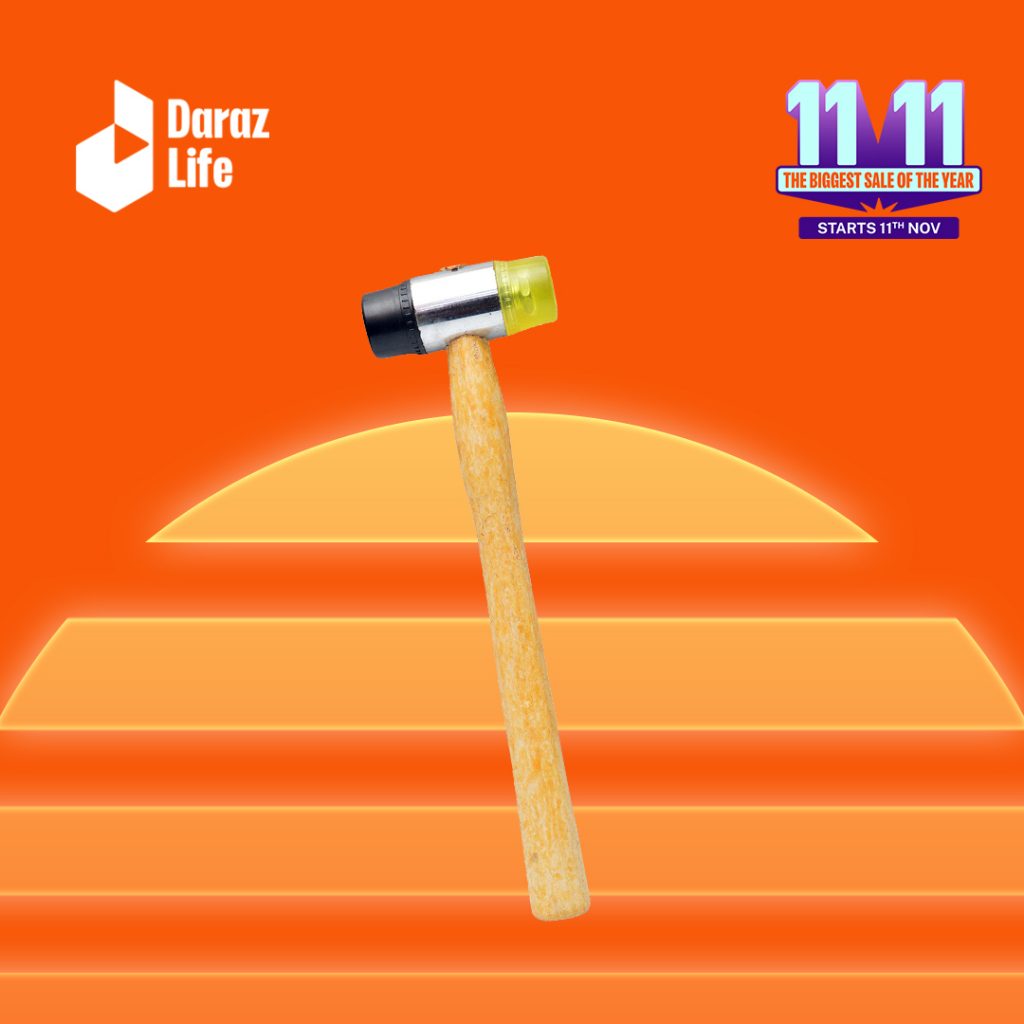 Every household needs a hammer. It's a handy tool to possess, whether you are trying to nail in a hammer or trying to break open a door that is stuck.
We hope you will be able to get all the hardware tools and garden tools you need during Daraz 11.11. If you are shopping for stationery, check out our blog 11 Deals Up To 60% Off on Stationery Online During Daraz 11.11.