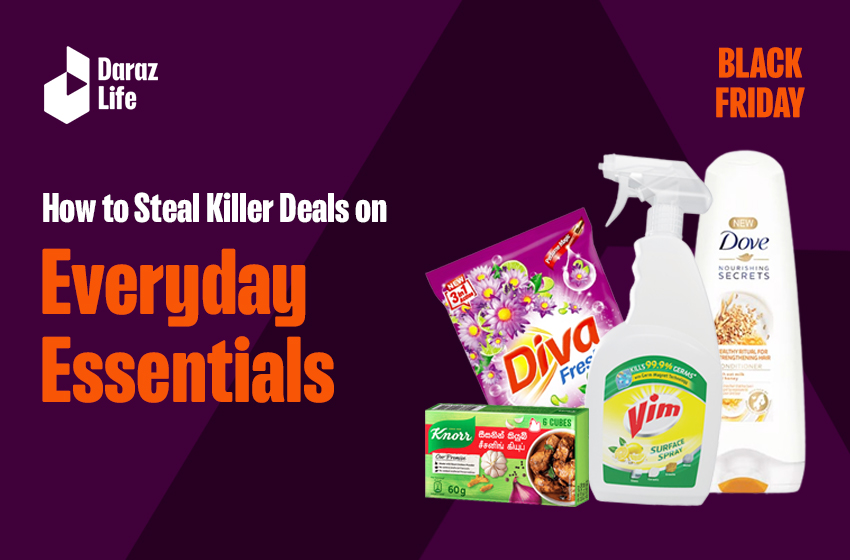 Steal Killer Deals on Personal Care Products and Groceries
If you are searching for the lowest prices on personal care products and groceries, we have great news. Check out Daraz Black Friday for the best deals on daily essentials.
Are you stocking up on personal care products and groceries for the end of the year? Get the best discounts in the market from Daraz Black Friday.
Get the Lowest Prices on Personal Care Products and Groceries
Daraz's Black Friday sale is now LIVE, so get ready to shop until you drop. There are endless choices at the lowest prices. Get up to 25% Off when you shop on Unilever and up to 20% Off when you shop on Hemas flagship stores. Shop with your Mastercards and get an additional 12% Off. Furthermore, get 10% off any other bank card from leading banks.
Keep an eye out for Crazy Flash Sales during Black Friday, where you can save 20% on your total bill.
Shop with Daraz Points on Friday and get 20% Off Sitewide. Enjoy Rs. 150 when you buy bundle deals. Additionally, keep an eye out for free shipping on your orders.
Without further ado, lets' take a look at personal care products and other grocery items that will be available at discounted prices during Daraz Black Friday.
Skin Care
If you are someone who takes care of the health of your skin on a daily basis, you can most definitely use a good deal on your favourite skincare products. Keep an eye out for facial wash from popular brands like Ponds and Vivya. Also, there will be discounts on moisturizing creams and serums for your skin. So, make the most of the deals and discounts available during Daraz Black Friday and stock up on your favourite skincare products.
Baby Care
Choosing the best baby care products for your little bundle of joy is a vital part of the parenting journey. A baby's skin is significantly thinner than an adult's and contains fewer lipids, melanin, and other naturally occurring moisturizing agents. Baby skin also loses moisture considerably more quickly, which causes it to dry out more quickly.
As a result, your baby's skin barrier is considerably more sensitive and prone to damage than your own. As a result, your baby's skin needs extra attention to avoid drying up. Thus, it's essential to use mild baby care products on your little one's skin. So, if you are specifically shopping for skin care products for your baby, keep an eye out for price slashes on Baby Cheramy, Clogard Chooty, and Pears Baby.
Hair Care
Quality hair care products play an essential role in maintaining voluminous and healthy natural hair. Therefore, savings on quality hair care products is definitely music to anyone's ears. Shop from high-quality brands such as Loreal shampoo, Tresemme shampoo, and Dove haircare products, and save up big time.
Laundry Essentials
Get rid of the dirt and grime, and bring back the clean and shine. It's time to save up all your cleaning and laundry needs during Daraz Black Friday.
Cleaning Essentials
There is no doubt that we come in contact with house cleaning products on a daily basis as we attend to our household chores. Therefore, if you are looking for a bargain on cleaning products, browse for brands like Shield, Vim, Domex, Cif Power, and Domestos.
Beverages
When we discuss daily essentials, beverages like tea, malt drinks and chocolate drinks play an important role. Beverages are essential for any event, and Daraz has a wide range of offers that'll allow you to save a lot during Black Friday.
Oral Care
Oral hygiene is no doubt an essential factor in leading a healthy lifestyle. Therefore, get the products you require to maintain optimum oral health this year and next. Stock up on toothpaste and toothbrushes from brands like Signal, Cloagard, and so much more.
Fragrances
Body odour is such a major turn-off regardless of whether you are a guy or a girl. One of the most important advantages of using perfume is that it improves one's smell, in turn enhancing the mood. Perfume can help you feel better. Wearing a scent that reflects your mood might also help you portray it more effectively. Whether you're feeling fun, naughty, timid, or even reserved, fragrances come in various smells to suit your mood.
Condiments
Condiments and sauces give your food flavour, moisture, and a better texture. There are different types of condiments, such as food seasoning, mayonnaise, tomato ketchup, chutneys, and curry paste. Since they're great taste enhancers, we love keeping a variety of condiments in our kitchen cabinet to spruce up our meals without much effort. So, grab the best deals on several condiments when you shop on Daraz during Black Friday.
So grab the amazing Black Friday deals while they last on deodorants such as AXE, Dove and Rexona. If you are looking for colognes and perfumes, you can save up on brands like Gold and Goya.
We hope you will be able to save big time when you shop for your personal care products and groceries during the Daraz Black Friday sale. If you are shopping for clothes and other fashion accessories, check out Amazing Deals on New Fashion.