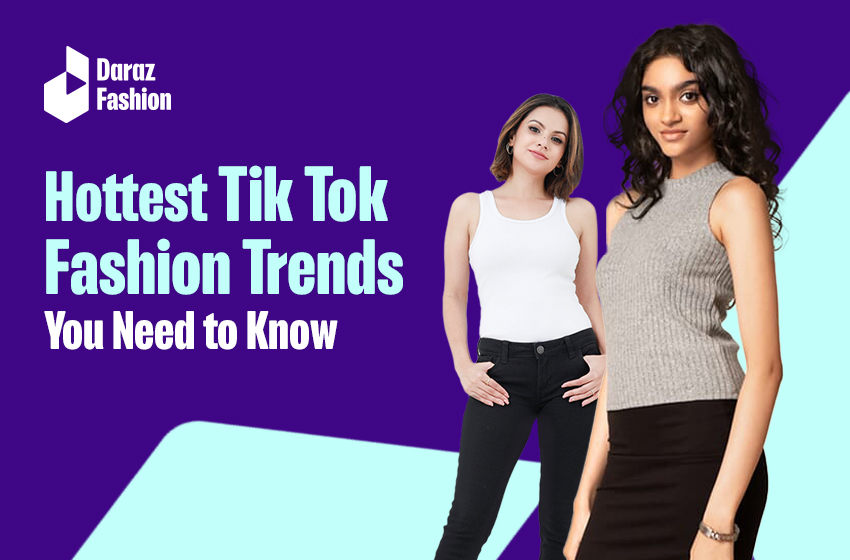 Hottest TikTok Fashion Trends You Need to Know
Don't fall behind on the latest TikTok fashion trends. Read on to find out the hottest trends that are popular among top influencers worldwide.
Are you ready to add a fashionable spin to your TikTok videos? Turn off the app and continue reading because we have lined up some of social media's most popular fashion trends.
TikTok was launched in September 2016, and after going global in 2017, the social media app really took off. Since then, millions of users have logged in daily to either upload or view videos. There are TikTok videos on just about everything, including parenting, relationships, sports, and, of course, fashion.
Shop For Affordable TikTok Fashion Trends on Daraz Fashion
Stay on trend with the latest looks and styles in the market. Check out Daraz Fashion, where you can shop for quality fashion attire and accessories from multiple brands at affordable prices.
Feel Good, and wear that feeling with Daraz Fashion.
Without further ado, let's dive into the latest TikTok fashion trends.
Tube Tops
If you haven't noticed already, the Y2K fashion trends are making a comeback. The strapless top is a huge hit among influencers all across the world. It's no surprise because wearing a tube top is an effortless way to instantly look cute. Furthermore, you can pair them up with jackets, hoodies, and oversized shirts to easily transform your look.
Low Rise Pants and Skirts
Low-rise pants and skirts are another Y2K fashion trend that has popped back up. The low-slung waistline pants and skirts are one of the most embraced fashion trends this year. They are hit on almost every fashion runway around the globe, and many celebrities have been making rounds in these daring and sexy pants throughout the year. Therefore, if you want to take your TikTok game to the next level this year, add a pair of low-rise pants or skirts to your wardrobe.
Cottagecore Aesthetic
The Cottagecore aesthetic has been dominating TikTok since the beginning of this year. It's not only comfortable and chic, but it is also a simple approach to looking good without much effort. For those who are unfamiliar with the term, Cottagecore is the convergence of fashion, interior decorating, and lifestyle practices that are in accordance with living in a cottage in the countryside. The Cottagecore style exudes a charming romanticism with a dash of pragmatism, so it is no wonder the trend is a hit in social media.
Retro Sunglasses
In the 1960s and 1970s, fashionable ladies wouldn't venture outside without a pair of big, statement sunglasses. Retro sunglasses can fit practically any face shape, which is one of its best features. A pair of vintage glasses out there will complement your features, whether you have a round face or an oval face. Therefore many popular influencers on TikTok have chosen to embrace these shades in their short clips.
Platform Shoes
Platform sneakers have been a recent trend, although platform shoes have been around in the fashion market for a long time. Platform sneakers and sandals are back in style thanks to TikTok. You will see many influencers wearing platform shoes in videos they made in 2022.  Platforms are a great way to gain a few inches if you're on the shorter side without wearing heels.
Bustier Tops
Corsets have been popular for a long time and don't appear to be going away anytime soon. Fortunately, there are a ton of different bustier top styles to pick from! You might choose an edgy appearance or something more traditional and romantic. The choice is yours.
Cutouts
Cut-outs have been a popular choice in runways of the most talked about fashion events across the globe. Out of the runways, torso-baring cut-out dresses and tops are starting to capture the fancy of several fashion influencers. Many celebrities across the world have been sporting elegant cut-out dresses in public. Therefore, the trend peaked in popularity in the summer of 2022. Some of these cut-outs feature cleavage-baring keyhole necks, and others expose the sides of the midriff. If you are going for a chic and sassy appearance, make sure you invest in a few cut-out dresses and tops.
Pink Slip Dresses
Pink slip dresses have seriously gone viral this year. If you check any social media newsfeed, you are sure to spot a number of popular figures in these pink dresses. If you don't already own this fun and playful look, we recommend you add this to your closet. It's a great way to exuberate optimism in your TikTok videos.
Mini Skirts
Miniskirts have always been in trend, but this year the trend went viral all over the world. They have triumphantly appeared on runways as well as all over social media in 2022. There are several ways to style a short skirt, and you can wear them with crop tops, shirts or jackets, provided you choose the right colours and style. The best part is depending on the way you style your mini skirt; you can use it in more than one video.
We hope you will be able to choose colourful and trendy fashion choices through Daraz fashion. If you are shopping for bags, don't forget to check out Amazing Deals on Bags for Every Occasion.