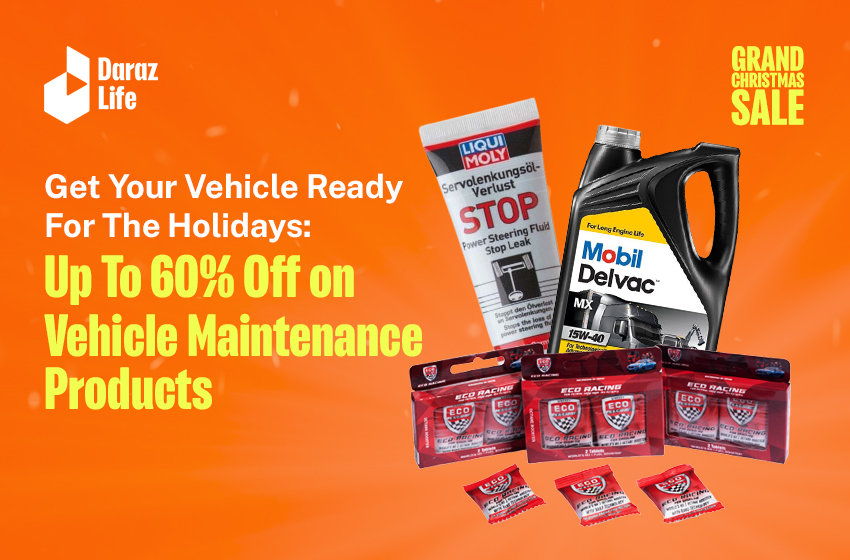 Best Discounts on Vehicle Maintenance Essentials
If you are thinking of vehicle maintenance before you begin travelling for the holidays, you are at the right place. You can get the best prices on all vehicle equipment and accessories during the Daraz Grand Christmas Sale.
Ready to enjoy discounts on vehicle maintenance essentials? Continue reading to find out how you can get the lowest prices with added discounts on vehicle spare parts and other accessories.
Up To 60% Off on Vehicle Maintenance Essentials From the Daraz Grand Christmas Sale
Daraz is ready to deliver the best Christmas deals to your doorstep with the Daraz Grand Christmas sale. Shop from the 12th of December, and get up to 80% off over 5 million products ranging from fashion, lifestyle goods, phones, computers, and electronic appliances.
Save more when you use your credit cards and debit cards. Get an extra 12% off on credit cards and easy monthly instalment plans for up to 60 months. Save an extra 25% Off when you shop with your debit card (T&C Apply). So get your bank cards ready to shop till you drop.
Shop brands like ECO, Mobil, Liqui Moly, De Charles Trading Company, RANOMOTO, SOL4, Nenki, GDR, BEON, JOPPA, HHCO, SONAX and FERRI to get discounts of up to 60% and Free Shipping. Furthermore, collect discount vouchers from these stores to save more!
Collect Vouchers & Double Your Savings
Do you know the best way to get savings on top of savings when you shop on Daraz? Collect Daraz vouchers to get big discounts when you checkout your favourite products. There are four different types of vouchers available on your Daraz App.
Daraz Vouchers – Discounts under specific item categories, such as fashion, lifestyle goods etc, that can be used sitewide.
Shipping Vouchers – Gives you discounts on shipping fees
Bank Vouchers – Vouchers issued by specific banks that allow you to get a discount when you shop with one of their bank cards.
Store Vouchers – Offered by the stores on the Daraz platform to get discounts when you shop for products from a specific store.
When you collect all of these vouchers and stack them together, you are able to obtain the best discount at the checkout when you purchase your favorite products. So don't forget to collect vouchers before you head to the checkout when you make a purchase on Daraz.
Win Fabulous Prizes With 1 Rupee Game
How would you like to win an Apple MacBook, a Galaxy M10, or a valuable Casio Watch for just 1 Rupee? You read that right! Get on your Daraz App, play the 1 Rupee Game before and during the Daraz Grand Christmas sale and win amazing prizes. Check out the 1 Rupee Game home page to see the products you can win.
All you have to do is get on your Daraz App, choose the product you want to win on the 1 Rupee Game Home Page, add it to your cart, and checkout using 1 Daraz Point. Please note that you must activate your Daraz Points to participate in this game. So, get on your Daraz App and activate Daraz Points now.
Without further ado, let's take a look at some vehicle maintenance products that will be available at discounted prices during the Daraz Grand Christmas Sale.
Ocatane Booster
An efficient Octane booster can enhance your Octane rating. Furthermore, it can maximizes your engine performance and maximize your fuel economy. Enjoy efficient travel this season by using an Ocatane Booster on your vehicle's fuel system.
Diesel Engine Oil
a diesel engine oil with very high performance offers excellent lubrication for modern diesel engines, extending engine life. Furthermore, almost all major European and American engine manufacturers consider this product to satisfy their specifications above and beyond. This exceptionally high-performance product has been proven across a diverse range of markets, uses, and vehicle types. So, use this amazing diesel engine oil to maximize your engine performance during these seasonal travels.
Steering Fluid
The additives in the steering fluid provide rubber and plastic seals with the best possible care. It prevents oil loss, eliminates oil leakage from dripping steering gears, and regenerates worn-out seals.
This fluid cleans the holes and ducts in the steering gear and improves the oil's function. Other benefits of using this include reduced noise levels, increased service life, and cheaper repair costs.
Motorcycle Parts
If you shop for motorcycle parts this Christmas season, you do not have to waste time walking from one store to the next. You are sure to find everything you need online on Daraz. The best part is you can get everything at special discounted rates and get them delivered to your doorstep.
Motorcycle Accessories
Are you shopping for a Helmet this season? Or is it high time you got yourself a new pair of gloves and a jacket? Search no more. Get on your Daraz App and get the best prices on motorcycle accessories during the Daraz Grand Christmas Sale.
Vehicle Parts
It's not easy to come by all the vehicle parts you require in one place. So what's a better alternative? Get on Daraz and find everything you need on the platform at the lowest prices. Also, don't forget to collect discount vouchers and bank vouchers to save up big time!
We hope you will be able to get all your vehicle maintenance essentials on Daraz before the holiday travels begin. If you are shopping for laptops, check out our blog Best Bargains On Laptops in Sri Lanka.