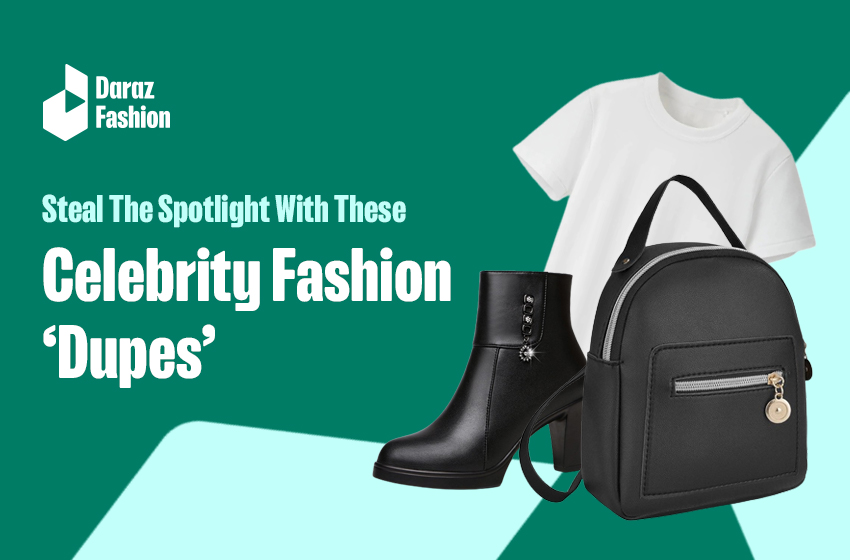 Celebrity Fashion 'Dupes'
If you are an ardent follower of celebrity fashion, continue reading this post. Find out some celebrity outfits that you can easily duplicate.
Do you enjoy experimenting with new looks from the celebrity fashion world? Ahead we have listed outfits, shoes, bags and accessories that you can use to reproduce the look of a celebrity easily.
Embrace Your Celebrity Fashion Inspiration With Daraz Fashion
The famous fashion photographer Bill Cunningham once stated, " Fashion is the armour to survive the reality of everyday life." So check out Daraz Fashion if you are ready to escape the mundane everyday reality and step into the celebrity fashion world without breaking the bank.
Look and feel like a star! Get on Daraz fashion and grab the best deals on shoes, handbags, jewellery, accessories, outfits, and so much more. Shop over millions of products from top-quality brands and the latest fashion trends in the world
Be the most fashionable version of yourself with Daraz Fashion.
Let's take a look at some celebrity duplicates you can get on Daraz Fashion. Get them delivered to your doorstep.
'Fly' like Beiber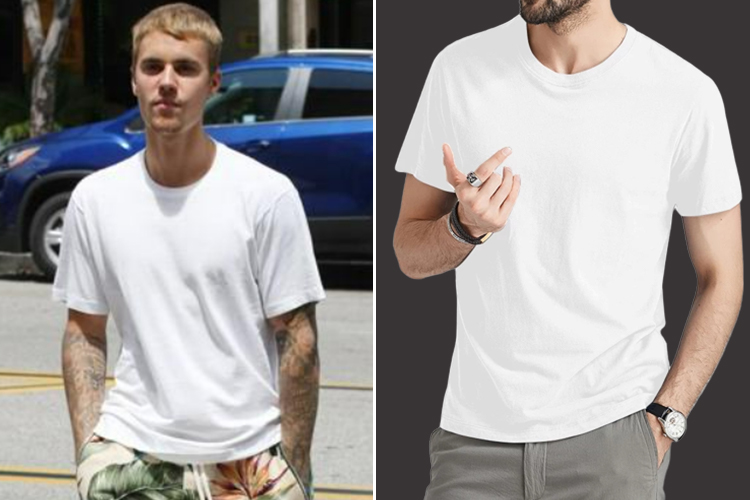 Justin Beiber is no doubt a celebrity sensation. He has been stealing the hearts of fans worldwide since the tender age of 15 years. However, if you see this celebrity legend on the streets, he's always clad in simple but fashionable casual attire. Plenty of times, paparazzi have caught him walking out and about in just a plain white Tee.
If you are a guy who likes to look stylish, Here are a few reasons why you should add a plain white T-shirt to your wardrobe.
A white T-shirt makes your shoulders seem broad and slims your waist, creating a V-shape form.
They are perfect for layering.
You can wear it to work if your office has a smart casual dress code
So, let these perks inspire you to get yourself a plain white T-shirt if you don't own one already.
Effortlessly Sexy: Sienna Miller
Sienna Miller is one of the sexiest actresses in Hollywood. The best part is she's always seen in simple clothing elements that do not require an immense effort to put together. For example, check out this simple but stylish jeans and jacket combination. It just proves that you can easily look stylish and radiant with a simple closet staple like stretch denim jeans.
Let's see why you should own a pair of stretch denim jeans;
They are thin and lightweight, therefore much more comfortable than most other types of trousers.
Easy maintenance because all you have to do is just wash them
You can easily match them with multiple different tops, shirts or T-shirts.
Also, you can grab these jeans with different styles and shades and almost wear them on a daily basis with different tops. This saves up plenty of time, effort and energy.
Simple, Yet Elegant Kristin Cavallari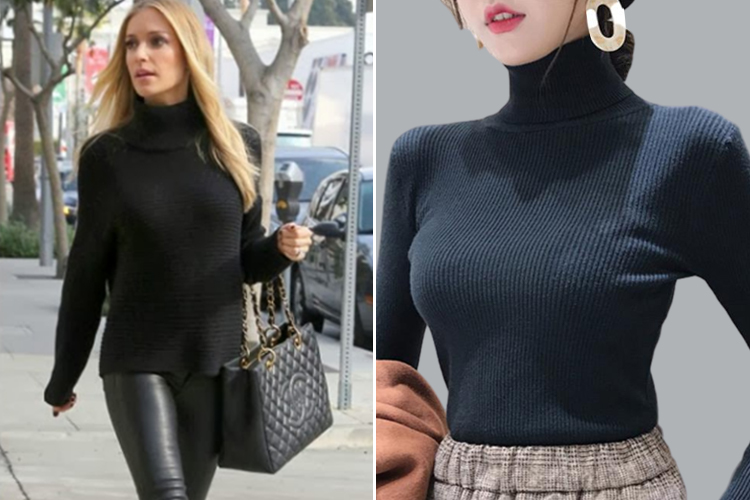 Kristin Cavallari is a TV personality and fashion entrepreneur known for her simple and elegant style. Her street style includes casual attire like jeans, white T-shirts, black sweaters and cute crop tops. The turtle neck sweater she's sporting in this image is an ideal example. A black sweater like this will be ideal if you are stepping out on a cold or rainy day. Additionally, you can match it with jeans, a leather skirt, or any other skirt or trousers of your choice, making it a versatile wardrobe item.
Always Trendy Shilpa Shetty
Bollywood actress Shilpa Shetty is a queen of the fashion world. She is always a sight to behold, whether she's on the silver screen, walking the streets or on a ramp. She matches her clothes and accessories in such a way to suit the occasion. These ankle-length boots perfectly complement her casual outfit in this image. Sleek ankle-length leather boots are trending big time in the fashion world. Also, it can easily complement any outfit, whether you're wearing a long dress, short skirt or jeans.
Fashionista: Hailey Beiber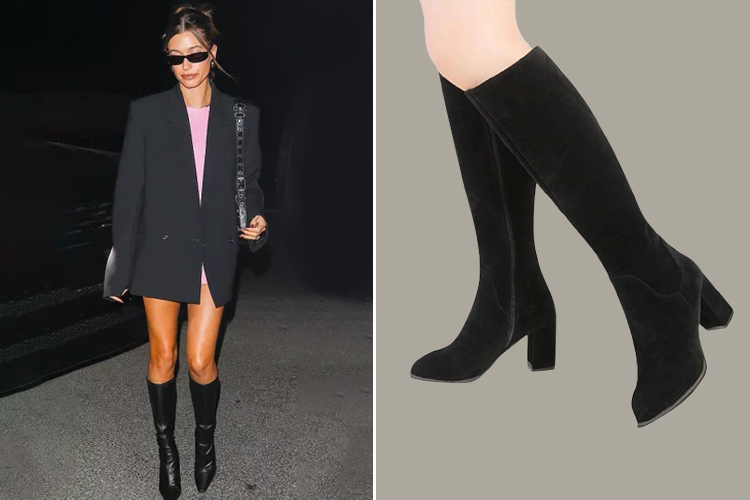 American fashion model Hailey Beiber always steals the spotlight with the latest trends and fashion in the market. As a model, she has to be on top of her fashion game, whether she is walking the ramp, the red carpet or the streets. If you want to elevate your fashion game, these fashionable knee-length boots she wears in this image are a must-have in your fashion wardrobe. Since leather boots are trending this year, adding them to your shoe collection will give you ample time and opportunities to wear them throughout the year.
Glam & Glitzy: J-Lo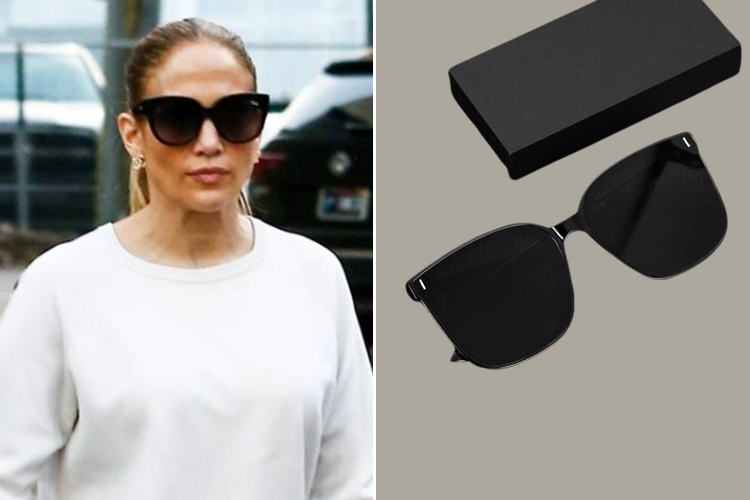 Jennifer Lopez is one diva who has made statement after statement in the world of fashion. Her style has been a tremendous inspiration for many. We see her regularly wearing oversized fashion glasses, as the one featured in this image. Therefore, add a pair of oversized shades to your accessory box to walk around the town like a diva.
Iconic: Ariana Grande
Ariana Grande is a singer and celebrity well-known for her iconic fashion choices. She always rocks a feminine, fun and flirty style wherever she goes. The accessories she carries never fail to resonate with her look. This stylish mini backpack could also complement your outfit on any given occasion. Whether taking a stroll in the streets, window shopping at the mall or going to class, this backpack can elevate your style immediately.
We hope you will revisit this post the next time you desire to dress up and embrace your inner celebrity spirit. If you are shopping for New Year office outfits, check out Stylish Online Office Wear For 2023.