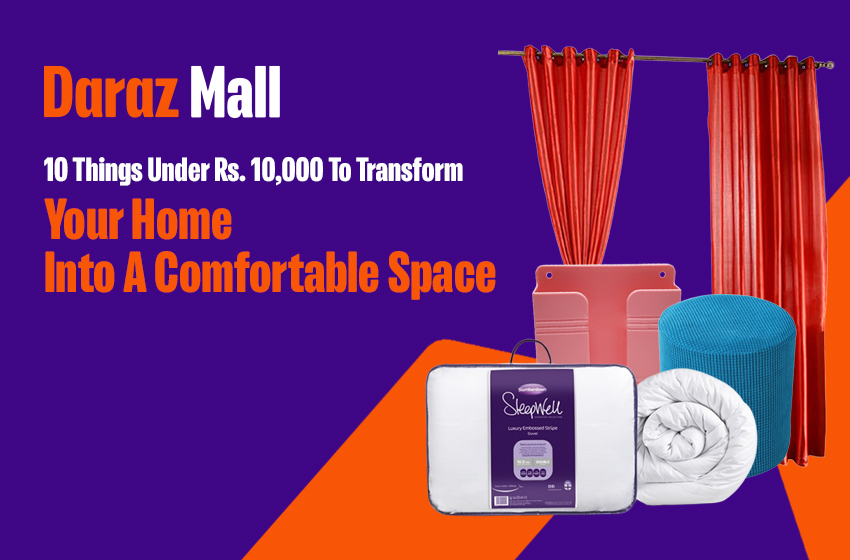 10 Household Items Under Rs. 10,000
Sometimes, it takes a few special household items to turn a house into a comfortable home. Read on if you are looking for household items online shopping Sri Lanka.
Are you looking to get a few household items to enhance the comfort of your living space? Ahead, we have listed 10 items under Rs. 10000 that can help to make your home more comfortable.
Authentic Household Items From Popular Brands at The Lowest Prices
Are you looking for 100% genuine products? Check out Daraz Mall, Sri Lanka's largest online mall, where you can get original branded products for the best prices, with fast delivery and 14-day easy returns. Shop from over 1000 brands and one million products. So what are you waiting for? Download the Daraz App and shop with confidence on Daraz Mall.
Without further ado, let's take a look at ten household items that can bring more comfort into your living space.
Bean Bag
We always try to find simple ways to add extra comfort and cosiness to the living room. Adding a bean bag or several bean bags to your living room or patio is a great way to add an overall cozy feel to the space. If you are ever in the mood to chill out, watch a movie, or read a book, a bean bag is an ideal piece of furniture to lounge in. So, if you are looking for budget-friendly ways to enhance the comfort of your home, get yourself a bean bag under Rs. 10,000.
Body Pillow
Get extra comfy when you rest up in your bedroom with this amazingly huggable body pillow. Also, adding a body pillow to your bed is a great way to enhance your bed's overall look and feel.
Scented Candles
A refreshing aroma can always transform your mind and bring a soothing effect to your entire household. So, burn a scented candle every time you want to feel relaxed and refreshed. Additionally, scented candles are a great way to freshen your space when you have visitors coming in. There are several fragrances you can choose from, including lime and peppermint, cherry blossom and vanilla.
Cozy Bath Mat
One of the worst feelings in the world is to step outside right after a bath and step on the bare floor. Besides, right after you have just fully cleansed yourself, it can feel disgusting to step on a dirty floor. So, to avoid feeling grossed out as soon as you step out of the shower, place a super soft bath mat that you can step on instead.
Ottoman
Sometimes it can feel really nice and comfy to sit and rest your feet on a footrest or ottoman. The ottoman here is the ideal addition to your living room if you want to increase the comfort and the cozy vibe of the space. You can select from several different colours and pick a colour that best fits the other interior of your living room.
Blackout Curtains
These blackout curtains can block the light and create a cooling and peaceful vibe in your room. Additionally, it helps to reduce outside noise. These curtains are durable, and you can choose from several different colours that match the space in your home you plan to use them.
Wall Mounted Phone Holder
Are you familiar with leaving your phone lying around on the floor or a random spot in your home just because there is no other accessible power outlet? Have you encountered a situation where your charging cable is not long enough to place the phone on any flat surface? Leaving your phone in the strangest spots may be an option, but there are safer ways to make sure your phone gets charged. A wall-mounted phone holder is a clever way to store your phone next to the power socket while charging. Plus, it's an easy instalment and durable.
LED Curtain Lights
Do you wish to enhance the ambience of your home? Turn any room in your household into a magical area with this beautiful curtain that lights up.
A Hotel Quality Duvet
Give your bed an immediate upgrade by adding this hotel-quality duvet as part of the bedroom set. It's made of incredibly soft material and ideal to snuggle up in while you get a good night's rest. Soon, you will replace all the blankets in every bedroom with this soft and comfortable duvet.
Motion Sensor Light
Light up the areas that need illumination, like under your pantry cupboards, stairways or closets, with these amazing motion sensors lights. These lights are rechargeable, and therefore you can use them for an extended period of time. It also features a light and motion sensor allowing anyone to easily switch it on or off.
We hope you can enhance the comfort and ambience of your home with the household items we have suggested on this blog. If you are shopping for home appliances, check out Appliances That Reduce Household Electricity Consumption in Sri Lanka.