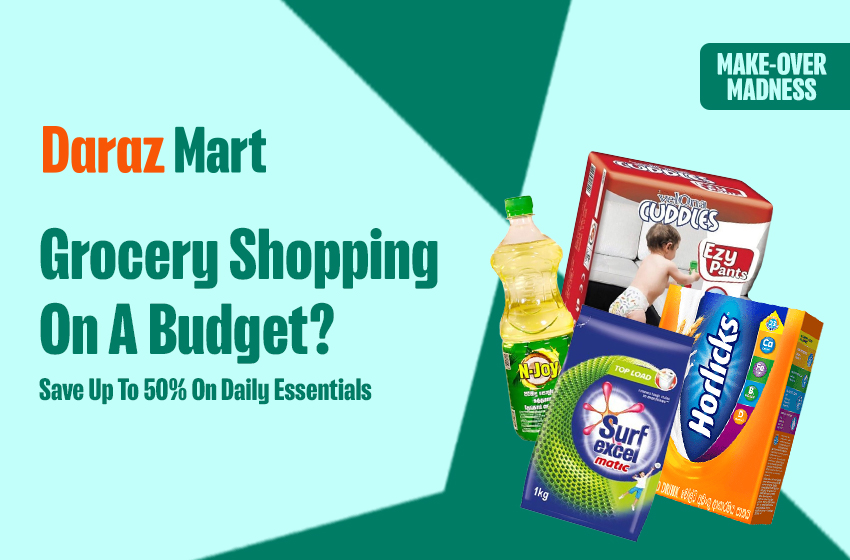 Grocery Shopping on a budget: Tips and Tricks for Saving Money
If you are grocery shopping on a budget, we have delightful news. You can shop for grocery items at special discounted rates from the Daraz Makeover Madness.
Transform your grocery shopping experience with our budget-friendly guide. Learn how to save money, eat healthy and plan like a pro.
Grocery Shopping On A Budget Made Possible With Makeover Madness
Are you ready to say goodbye to your old lifestyle and say hello to a new one this year? Join Daraz Makeover Madness starting on the 27th of January. Shop from over 5 million products that can renew your home, your interests and your entire life.
If you are grocery shopping on a budget, here are a few tips you can follow during the campaign.
Collect Daraz Vouchers Before Online Grocery Shopping
Do you know the best way to save the most when you shop on Daraz? Collect Daraz vouchers to get big discounts before you checkout your favourite products.
There are four different types of vouchers available on your Daraz App.
Daraz Vouchers – Discounts under specific item categories, such as fashion, lifestyle goods etc, that can be used sitewide.
Shipping Vouchers – Gives you discounts on shipping fees
Bank Vouchers – Vouchers issued by specific banks that allow you to get a discount when you shop with one of their bank cards.
Store Vouchers – Offered by the stores on the Daraz platform to get discounts when you shop for products from a specific store.
When you collect all of these vouchers and stack them together, you are able to obtain the best discount at the checkout when you purchase your favorite products. So don't forget to collect vouchers before you head to the checkout when you make a purchase on Daraz.
Shop Grocery Items With Bank Cards
Save more when you use your credit cards and debit cards. Get an extra 12% off on Mastercards and an extra 10% Off when you shop with other bank cards of leading banks in Sri Lanka.
Pay Via Instalment Plans
You can opt to pay on an instalment basis for up to 36 months with 0% Interest. This option is available through several leading banks on the Daraz app.
Use Daraz Points Discounts
You can get 10% Off on your purchase sitewide when you pay with Daraz points. Therefore if you are buying groceries and other household items, make sure you use Daraz points at checkout.
Shop Bundle Offers
Buy more for less with the bundle offers available at Daraz mart. Enjoy great savings when you buy certain products in bulk.
Enjoy Category-wise Discounts
DAILY ESSENTIALS
Get up to 50% OFF on grocery items under the following everyday requirements.
Laundry and Cleaning
Laundry detergent and cleaning goods are some of the essential household items you buy on a weekly basis or every fortnight. You can grab amazing deals when you shop brands such as Surf Excel, Sunlight, Airwick, Domex, Diva, Dettol, Harpic, and Lysol.
Beverages
Enjoy significant savings when you shop for beverages such as Vim, Horlicks, Viva, Dilmah, Pepsi, Nestle, Nestomalt, Pelwatte milk powder, and Sustagen.
Spices
Wijaya Spices offers amazing discounts when you purchase their spices during the makeover madness campaign. So make the most of this opportunity and grab all the spices you need to add flavour to your meals.
Cooking Essentials
If you are looking for pulses, cooking oils, condiments and canned food, you might be in luck. This could be an amazing year where you get to save more while you eat healthier. Look out for price drops on the brands; Knorr, Araliya, Harischandra, CIC, N-Joy, and Tess.
MOTHER AND BABY PRODUCTS
When it comes to children, mothers strive for flawlessness in every aspect of their lives. Are you a mom shopping for the best products for your little one? Grab up to up to 60% OFF, Free delivery and discount vouchers when you shop for specific brands on Daraz.
Diapers
There are several deals and offers on popular diaper brands. Some brands you should keep an eye out for are Farlin, Marvel, Baby Cheramy, Velona Cuddles, and SoftLove.
Baby Skincare
Your little ones have the most delicate skin and therefore need mild skincare and hair care products that moisturize and protect their skin. Get the lowest prices on baby skincare products from the following brands; Baby Cheramy, Pears, Panda Baby, and Swadeshi.
SKINCARE AND COSMETIC PRODUCTS
Level up your self-care game in 2023 with up to 60% OFF on beauty products in Lanka. Also, look out for free delivery and special discount vouchers on cosmetics and hair care items. So put that game face on and conquer all your goals set for the year and look good and feel great by saving more money while you achieve them.
Shampoo
Healthy and radiant hair is not something that magically happens to everyone. It takes a good shampoo to ensure that your hair gets the optimum care and cleansing it requires. Check out amazing offers from shampoo brands such as Loreal, Garnier, Lifebuoy, Dove, Dandex, and Kumarika if you are shopping on a budget.
Conditioner
If you dream of having a beautiful and shiny-looking mane, make sure you use the right conditioner for your hair type. Also, save up while you shop for conditioners from the following brands: Loreal, Garnier, Lifebuoy, Dove, Dandex, Nature's Secret and Kumarika.
Skincare
Skincare products can be slightly expensive on a normal day. However, now you do not have to break the bank to have good-looking skin because skincare and cosmetic brands such as Loreal, The Ordinary, Nivea, Janet, LuvEsence, Dettol, Vaseline, Lux, Goya, Velvet, Vivya, Veet, British Cosmetics, and Nature's Secrets are offering great discounts during the makeover madness sale.
We hope this budget-friendly grocery and daily essentials guide will help you not only save money but also help eat healthier and transform your life this year. If you are looking to save more, don't forget to check out our blog on Daraz Mart Clearance.