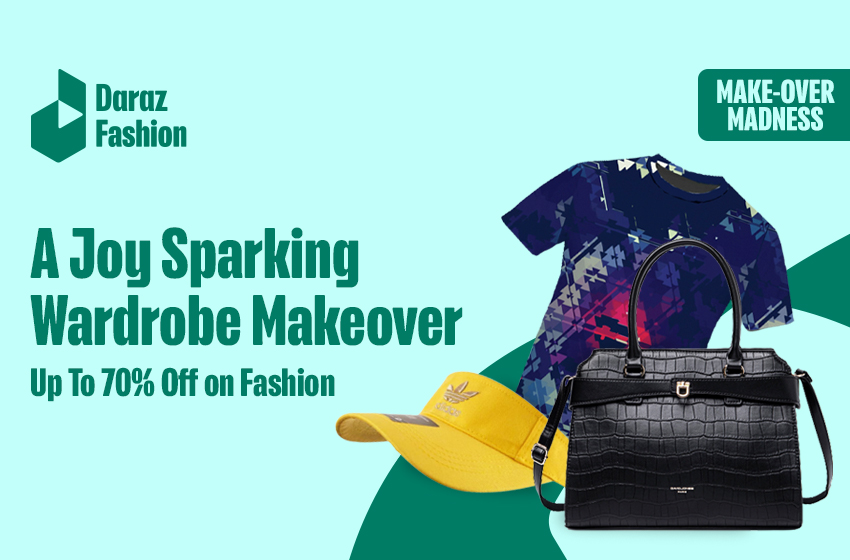 Refresh Your Wardrobe With New Fashion Items
Brace yourselves if you are on the hunt for new fashion for 2023. Let's explore how you can upgrade your wardrobe with the latest fashion.
Are you ready to elevate the status of your wardrobe with the brand new fashion in the market? Spark with joy as you grab the latest trends at affordable prices.
Up To 70% Off On New Fashion From Daraz Makeover Madness
Are you ready to say bid adieu to your old wardrobe? Daraz Makeover Madness is live with jaw-dropping deals and discounts. Shop from over 5 million products to add the latest trends in fashion to your closet. The time has come to change your life around and do a complete makeover.
Use store discount vouchers to enjoy joy-sparking discounts on clothes, shoes, bags, and accessories. Get everything delivered to your doorstep for free with free shipping discounts. There is something for everyone, whether you are seeking to start a new wardrobe from scratch or simply looking to add a few statement pieces to your existing collection.
You can use this extensive buying guide to see whether you can find fashion items that can spark your interest.
Frocks For Girls
Dresses and frocks can easily complement women and make them look attractive instantly. It's considered ladylike and feminine.
Dresses can cost a pretty penny, especially if you are shopping for the latest collections from popular brands. A girls dress can cost between Rs. 3000 to Rs. 30,000, depending on where you shop. Therefore if you plan to add a few dresses to your wardrobe this year, make sure you shop during online sales.
Shirts For Men
If you are a guy who stays on top of trends, adding a few colourful shirts is one way forward to amp up your wardrobe. You can never go wrong by adding a tropical-printed Hawaiian shirt to your outfit collection. If you are required to dress in business casual or business professional attire at your workplace, make sure you invest in a few collared shirts of different hues to last you through the year.
Mens T Shirts
T-shirts are a great clothing option for both men and women. They are easy to wear and easy to pair with other clothing items such as trousers, shorts or skirts. Also, they are practical, versatile and comfortable, making them a go-to clothing staple in every wardrobe. They also make a great pick for casual Fridays.
When you pick a t-shirt, many factors, such as the right fit, collar type, and material, come into play. Additionally, tees are a great way to depict your tastes and creative side. Therefore if you are upgrading your wardrobe for the year, keep in mind to add a few attractive T-shirts to your closet.
Athleisure For Men
Right after the pandemic, the athleisure trend took the world by storm. Athleisure, by definition, is clothing that is suitable for working out, but as they are attractive and fashionable, they can be worn for other activities as well. Whether you are a gym rat or you enjoy lounging around at home in your sports gear, you will not regret getting a few athleisure clothing items in your wardrobe this year.
Athleisure For Women
Who said you could not combine fashion and function together? Incorporating performance wear into your everyday routine is one way to accomplish this. So, whether you are hitting the gym, taking a trip to the grocery store, or window shopping at the mall, athleisure can provide you comfort and convenience. Moreover, you can always layer the sports gear to look stylish and even sophisticated.
Undergarments
Underwear is essential to protect the outer layer of your skin from the fabrics and seams of the clothing you wear. Furthermore, they aid in protecting your clothes from sweat and help clothes last longer. Women and men have separate types of undergarments depending on their requirements.
Good underwear can not only support your body, but it also aids in shaping your form. However, just like outer garments, undergarments tend to get worn out as well. Therefore it's wise to invest in some underwear in the new year.
Shoes For Men
Boys shoes constantly change trends every year. And, this year is no exemption. Choose from a wide range of high-quality, fashionable and comfortable casual shoes that suit your needs and desires when you shop for shoes on Daraz. The best part is you can find any type of shoe without having to even step out of your home.
Shoes For Women
Just like men's shoes, womens shoe trends keep changing every season. If you are looking for the new fashion trends in women shoes, get on your Daraz App now. You can choose from a variety of styles, designs, and materials and get them delivered to your doorstep with just a tap of a finger.
Bags For Women
Are you ready to replace your old baggage with fresh and trendy new baggage? You might not be able to get rid of your old emotional baggage, but you can always buy a trendy bag and have fun with the new bag and simply kiss away the woes of the past. So, start the new year right with a flashy new bag.
Gym Bags
Do you plan to hit the gym regularly this year? Then a gym bag is an essential item you need to own. You should be able to carry your shoes, clothes, towel, and any other accessory you want to take to the gym with you. Also, it doesn't hurt if it looks good because who says you cannot make a fashion statement when you go to work out?
Laptop Bags
If you're someone who does an office job, most likely, you're usually always on the go with your laptop. If your laptop bag is worn out, right now might be a good time to replace it. Browse through your Daraz app to find Laptop bags of various designs, shapes, colours, and sizes.
Accessories
You can turn any outfit into something outstanding with the right accessories. If you are going for a sport look, then you can wear a cap or a hat. If you are wearing a simple t-shirt and want to add a tinge of glam to your outfit, the right necklace can help you accomplish it. So, stay tuned to this space to find out the latest accessory trends in the market.
We hope this buying guide will help you navigate and make the best purchases for a new wardrobe makeover. If you are wondering what the latest trends in shoes are, check out Footwear Trend For 2023.