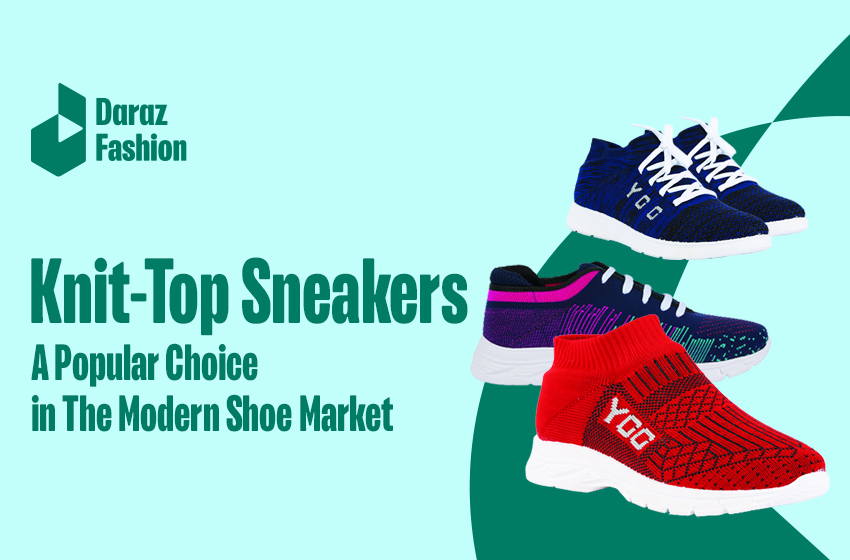 Why Knit-Top Sneakers Shoes Are More Than A Trend
Knit-top sneakers shoes have become popular in the fashion industry due to their style, comfort and versatility. So, let's explore why knit top shoes for men and women are becoming more than just a trend.
Are you looking to buy sneakers shoes for comfort and casual wear? Continue reading and discover the benefits of knit-upper shoes.
Knit-Top Sneakers Shoes Goes Beyond Fashion
The modern fashion industry is more focused on sustainable shoes and highlights comfort and functionality. Therefore, knit uppers have become more than just a fashion statement for the present generation. It's a sign of evolution in footwear that has a positive impact on the environment.
People gradually move away from other types of shoes and toward knitted footwear. Knit shoes highlight that you don't have to sacrifice style or comfort to look fashionable.
Whether this is the first time you have heard of knit-top sneakers shoes or you already own a pair and do not know what to call them, this article will make you look at knit-top shoes in a different light.
Yoo Brands are one of the latest brands in Sri Lanka promoting knit-top uppers. We are going to showcase some of the shoes they manufacture below, and you can grab them online on Daraz at the lowest prices. Shop this week to get flat 20% Off on Yoo Brands.
What Are Knit-Top Shoes?
When you hear the term knit-wear, the first things that come to your mind are sweaters, scarves and knitted gloves people wear in cold climates. It's no surprise considering they were the commonplace knitted items available in the market until the knitted shoes came up.
Knit-top shoes are revolutionary! They set a new standard in the footwear industry where synthetic, rubber and textile shoes have been reigning for generations. They also diverge from the typical sneakers in terms of design and manufacturing process. These shoes are knitted, whereas most of the footwear in the industry is sewn.
What Makes Knit-Top Sneakers Shoes Modern Generation's Shoe of Choice
High Performance
Knit sneakers can endure hardcore tasks such as running, walking, and climbing as much as any other pair of sneakers for men and women. In terms of functionality, they exceed the expectations of a typical shoe.
They have incredible durability. Therefore, they are ideal for slipping on when you run your day to day's errands. The durability factor also makes them a good investment, as these shoes will last you a few years.
Ultimate Comfort in Any Climate
Knit tops are made of breathable material making them light and airy. Therefore, you can even skip wearing socks altogether if you like. If you live in colder climates, the Knit top sneakers are the perfect choice of footwear as the material can insulate heat well.
Are you tired of getting shoe blisters? In that case, you might want to try out knit-top shoes. Since they don't scrape against your feet, creating friction, you do not have to worry about getting blisters. For the same reason, these shoes are perfect to wear all day long.
Multifunctional
You don't have to keep separate pairs of sneakers for different activities. You can use the knit-top shoes that you use to step out and about when you work out too. Since they have rubber soles, they tend to wear well during running or other forms of exercise.
At the same time, since the top part of the shoe is lightweight, it's ideal for casual ventures like going out to the grocery store or hanging out with your friends. Therefore, these shoes are ideal for kids for casual wear or to wear as sports shoes.
Sustainable
It is widely known that mass production of shoes can sometimes be inefficient and wasteful. Conversely, using knit shoes ensures there is no waste. In the process of manufacturing knit shoes, there's almost no excess material that goes to waste.
Easy to Clean
These innovative knit uppers don't require any special care. Do anything you want with them, and when they start to appear a bit dirty, just wash them. Do not forget to first remove the foam insole. You can even wash them by hand with a mild laundry detergent.
You can also wash them in the washing machine in a regular cycle with cold water; remarkably, they come out clean. The only warning is to keep them out of direct sunlight and heat. After washing them, let them air dry.
Check out the amazing offers on Yoo Brands store on Daraz. Get flat 20% Off when you shop on the 9th of February. Shop between 10th to 15th February and get flat 15% Off. Also, collect store vouchers to save extra on your next pair of shoes.
Get your shoes delivered free when you purchase shoes over Rs. 4500. Finally, when you shop above Rs.10,000, and you stand a chance to win vouchers worth Rs. 20,000 from Daraz. So, click here and start shopping now.
Considering all of this, it's no surprise that Knit shoes are more than just a fashion trend. We hope this article will help you when you decide to invest in a new pair of sports shoes or shoes for casual wear. If you are shopping for ladies shoes, check out our blog, Ladies Shoes: A Buying Guide.