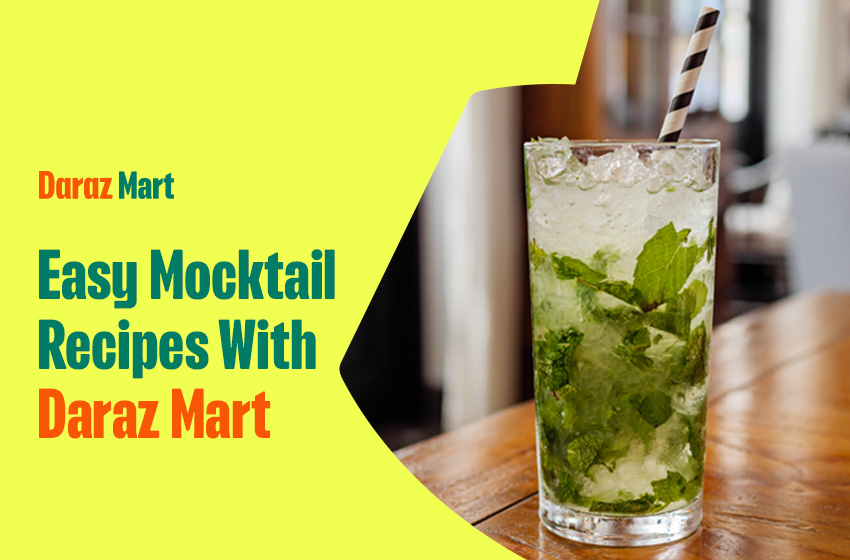 Easy Mocktails You Can Make at Home
Mocktails you can make at home have to be simple enough to put together with minimal ingredients. Check out our easy mocktail recipes you can make with ingredients from Daraz Mart.
There are plenty of easy mocktails you can make at home with just a few ingredients. So, whether you're hosting a party, or looking for a non-alcoholic option these recipes will help you put together something within a matter of minutes.
From fruity blends to creamy concoctions, there's a mocktail out there to suit every taste preference. In this blog post, we'll share some of our favourite mocktail recipes that you can easily make at home. These drinks are not only easy to make but are also sure to impress your guests. Also, they are ideal to provide a refreshing break from your daily routine.
Virgin Mojito Recipe
Mojito Ingredients
½ a Cup Elephant House Soda
2 Table Spoons of lemon juice
Ice cubes as required
8 mint leaves
4 Tsp sugar syrup
2 lemon wedges
Preparation
Mash up the mint leaves in a mortar and pestle.
Combine mint leaves, sugar syrup, lemon juice and lemon wedges in a cocktail shaker.
Shake it up.
Then add 8-10 ice cubes to it.
Shake until all the ingredients release their flavours.
Then pour the mixture into a glass.
Add Elephant House soda and your mojito drink is ready to serve.
Pina Colada Mocktail
If you are someone who appreciates mocktails without soda the Pina Colada Mocktail is for you. It is one of the easiest mocktails you can make at home.
Ingredients
450 grams of Frozen Pineapple
450 ml thick Coconut Milk
1 Tbs Sugar Syrup
Preparation
Mix together all the ingredients in a blender.
Pour into a glass and garnish with a decorative umbrella.
Shirley Temple
Are you in the mood for mocktails with ginger beer? In that case, you would love the recipe for Shirley Temple.
Ingredients
2 Tbs. Home Made Grenadine (Heat up pomegranate juice and sugar in a saucepan until sugar is dissolved. Cool and add a few drops of lemon juice for flavor)
1 Tbs. Lime Juice
2/3 cups Ginger Beer
Ice
Cherry for Garnish
Preparation
Mix Grenadine and lime juice together in a tall glass
Add the ice and fill the glass with the ginger beer.
Top with a cherry.
Non-Alcoholic Mimosa
This mocktail is for the ones who love mocktails with orange juice.
Ingredients
½ a Cup of ginger beer
¼ cup of Orange Juice Chilled
Champagne Flute
Preparation
Tilt the champagne flute and pour in Ginger Beer
Top it off with Orange juice
Arnold Palmer
If you are excited to try a mocktail with lemonade, the Arnold Palmer will easily wow you.
Ingredients
1 Cup unsweetened iced tea
1/4th Cup Lemonade
Ice
Few drops of lemon
Lemon Wedges for garnish
Preparation
Pour the lemonade into an ice-filled tall glass.
Pour iced tea on top and stir to combine.
If desired, garnish with lemon wedges.
We hope this blog helps you to have the beverages sorted for your next party or special occasion. If you are looking to add a twist to your Dhal curry, check out 7 Days of 'Parippu' Recipes Prepped in 7 Different Ways.