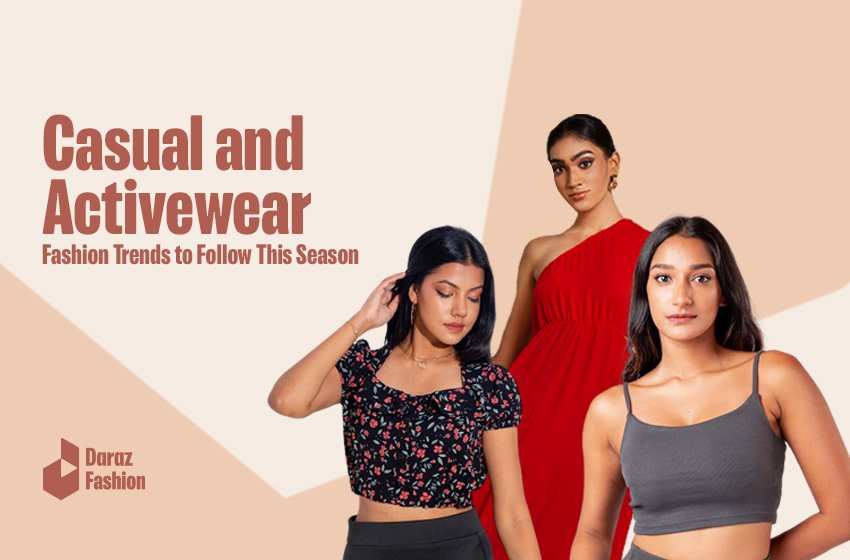 Latest Trends in Fashion for Ladies: Casual and Activewear
The latest trends in fashion for ladies encompass a wide range of casual and activewear styles. Read on to discover the reigning trends in the fashion world this season.
As the seasons change, so do the fashion trends. It's time to refresh your wardrobe and embrace the latest casual and activewear fashion trends that are making waves this season. Whether you're a fashion-forward lady or simply looking for comfortable yet stylish outfits, we've got you covered.
In this blog post, we will explore the latest trends in fashion for ladies, as well as for those who are interested in comfort and convenience. From monochrome outfits to bold details, let's dive into the must-have styles that will keep you on-trend and effortlessly chic.
Monochrome Outfits: Classic Elegance
One trend that never goes out of style is monochrome outfits. It is one of the top fashion trends in 2023. A monochrome ensemble, featuring different shades of a single color, exudes sophistication and timeless elegance. This season, experiment with monochrome looks in various hues such as dark hues, soft pastels, vibrant reds, or chic neutrals. Consider incorporating a statement piece like the crop top featured here into your monochrome ensemble for a touch of personality and flair. It's a wonderful choice of casual wear for ladies.
Maxi Dresses: Effortless Style & Grace
Maxi dresses are a must-have for any fashion-savvy woman's wardrobe. These floor-length dresses for girls offer a perfect blend of comfort and style. Opt for one-shoulder cuts and cut-away details, like the enchanting Amani Mirta One-Shoulder Cut-Away Maxi Dress, to elevate your casual look. Pair them with sandals or sneakers for a chic, laid-back vibe.
Oversized Jackets: Cute and Cool
Oversized jackets are becoming a go-to functional piece popular among the youth. Embrace the oversized trend and opt for jackets with a relaxed fit. These jackets not only provide warmth but also exude an effortlessly cool and contemporary vibe. Layer them over your favorite activewear or casual outfits for a stylish touch. Try the cozy and versatile Maia Hoodie for a fashionable and cozy look.
Puff Sleeves: Feminine Charm
Puff sleeves are making a comeback this season, adding a touch of feminine charm to any casual blouse design. Whether it's a blouse or a dress, puff sleeves instantly elevate your casual ensemble. Look for pieces with statement puff sleeves to make a fashion-forward appearance.
Floral Prints: Blooming Style
Floral prints are synonymous with spring and summer, and they continue to dominate the fashion scene this season. Embrace the beauty of nature by incorporating floral prints into your casual and activewear wardrobe. From tops to dresses, floral patterns add a fresh and vibrant touch to your outfits. Consider the Givo Olivia Floral Peplum Top to infuse your look with a blooming charm.
Sports Bra Tops: Sporty Chic
Activewear has transcended the boundaries of the gym and becomes a fashion statement on its own. Bra tops are a key trend in the world of activewear, providing both support and style. These versatile pieces can be worn alone or layered under oversized jackets or sheer tops for a sporty-chic look. Opt for the FOA Lydia Top for a trendy and comfortable bra top option.
Shades of Blue: Cool and Calm
When it comes to the latest trends in fashion for ladies this season, shades of blue take center stage. From tranquil pastels to bold cobalt, blue hues offer a refreshing and calming appeal to your casual and activewear outfits. Incorporate shades of blue through leggings, tops, or accessories for an effortlessly cool and on-trend look.
Feminine Earthy Hues: Nature-inspired Elegance
Embrace the beauty of nature with feminine earthy hues that evoke a sense of warmth and elegance. Think of shades like terracotta, olive green, and warm browns. These colors bring a natural and organic vibe to your casual and activewear looks. Incorporate earthy hues through shorts, tops, or accessories for a chic and sporty ensemble.
Bold Details: Stand Out with Confidence
To make a fashion statement, don't shy away from bold details in your casual and activewear outfits. Whether it's unique cut-outs, striking patterns, or eye-catching embellishments, these details add an element of surprise and individuality to your look. Incorporate a piece like the Melia Top from FOA to stand out with confidence and showcase your personal style.
Embrace the elegance of monochrome, the comfort of maxi dresses, and the coolness of oversized jackets. Play with feminine puff sleeves, blooming floral prints, and sporty bra tops. Experiment with shades of blue, feminine earthy hues, and bold details to express your personal style. By incorporating these latest trends in fashion for ladies into your wardrobe, you'll effortlessly stay on-trend and showcase your fashion-forward sensibilities. So, go ahead and embrace the casual and activewear fashion trends that will make you look and feel fabulous this season.
Now you can shop for high-quality, fashionable casual outfits from the Fashion Bug store on the Daraz platform. Stay tuned for an exciting range of new and stylish outfits they plan to release soon.
Are you shopping for affordable activewear brands? Look no further because F.O.A on Daraz is one of the most fashion-forward and affordable brands available in the market. If you are passionate about stylish athleisurewear we have exciting news! Shop at Daraz's F.O.A store on Saturday, June 24th to get an exclusive store voucher for 15% off. So get on your Daraz App on Saturday from 6 pm onwards and shop for this exclusive offer on the Daraz F.O.A store.